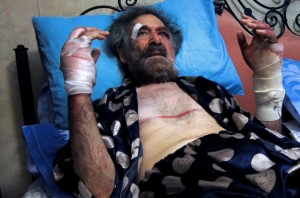 Ali Farzat — a renowned political cartoonist, the head of the Arab Cartoonists Association, and one of Syria's most important cultural figures — has been hospitalized after being beaten and left of the side of a Damascus road early Thursday.
According to reports, Farzat was picked up by security forces as he left his studio at 4:30 AM, beaten severely and thrown to the side of a Damascus road. Special attention was paid to his hands and arms during the attack, broken fingers and a fractured arm left in a not so subtle warning to put down his pen. The U.S. State department has called it "a government-sponsored, targeted, brutal attack."
Farzat's work is notoriously political and often aimed at Syrian President Bashar Al-Assad's regime directly, although he has in the past earned the attention of leaders in Iraq, Jordan and Libya, as well as a death threat from Saddam Hussein. The cartoon which was thought to have initiated the attack depicts Assad, suitcase in hand, trying to hitch a ride out of town with M.I.A. Libyan Leader Muammar Gaddafi.
Farzat's attack came on a day Syrian forces carried out military operations against anti-government activists across the country, killing. Since mid-March, more than 2,200 people have been killed in similar crack downs.
According to a close friend of Farzat, the attackers took drawings and other personal belongs, and told the cartoonist, "We'll see what you will draw from now on,' and "How dare you disobey your masters?'" Such carefully targeted attacks are often marks of particular desperation for embattled regimes.
Al Jazeera has been live-blogging the situation.
Have a tip we should know? tips@mediaite.com