Politico Obtains DNC Talking Points on Jeb Bush; Bush Responds: Silly, 'Misinformed'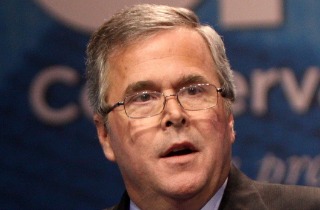 Now that Jeb Bush has come closer than ever to announcing a 2016 run, the knives are out for him. Conservatives who don't like Bush's moderate positions have come out of the woodwork to trash him, and Democrats have gone on the offensive too.
And so Politico obtained a list of talking points the DNC planned to use to attack the ex-Florida governor and brother of a president they aren't too fond of. For example, they say Bush won't have the interests of the middle class in mind, he would be an extension of his brother's "policies that wreck the economy," and he's just as hardline on immigration as his more conservative colleagues.
(It's worth pointing out here that earlier this year Bush said that immigrating illegally to help out one's family is an "act of love," a comment the right gave him a lot of grief for.)
Now, before you ask whether this is the DNC's real list, a DNC official confirmed its veracity to Politico. And it did not take long before Bush himself responded, reacting in a Facebook post last night:
Friends, the Democratic National Committee is out today with a script of "talking points" about me. I thought I'd share them with you.

Everywhere I go, people tell me how tired they are of the dysfunctional, squabbling silliness of politics today. These silly talking points, misleading and misinformed as they are, show you just how void of ideas the Democrats have become after six years of poor results in every area of our nation's business, from our struggling economy to our weakening position on the world stage.

If I do decide to run for President, I can promise you this: no more Kindergarten attack politics. Instead, I would offer a substantive campaign that will present the fresh conservative ideas and meaningful reforms that will help all Americans to rise up, seize opportunity and pursue a better life for themselves and their loved ones.
Bush does display the full list of talking points, and while he does condemn them as misinformed, he does not specifically refute any of the individual charges against him.
[image via Gage Skidmore]
— —
Follow Josh Feldman on Twitter: @feldmaniac
Have a tip we should know? tips@mediaite.com
Josh Feldman - Senior Editor