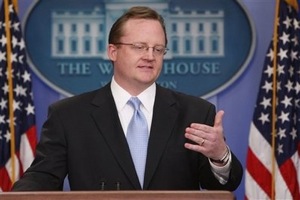 It appears that Rahm Emanuel's White House exit may be one of the first in a series for the Obama administration. According to Politico, the Democratic Party is looking into leadership negotiations that could land current DNC chairman Tim Kaine in the White House and spokesman Robert Gibbs in the Party's top post.
According to Mike Allen's Saturday morning report, talks have begun within the party to gauge interest in Gibbs as the DNC head for President Obama's reelection run in 2012. "According to people who have been consulted," major Democratic donors have reacted positively to the idea, as it would put an Obama campaign insider in full control of the party and expand the Obama administration's influence outside the White House, along with the impending departure of senior adviser David Axelrod and this week's departure of White House Chief of Staff Rahm Emanuel. Gibbs is expected to take his leave soon as well, perhaps for an advisory position within the White House.
According to one official within the Politico report, "it would 'put the Obama imprimatur on the DNC, once and for all,' and install a 'great partisan fighter' as the face of the national party for the reelection campaign. 'It's a brilliant idea if he ends up deciding he wants to do it,' said one official who has been consulted."
In exchange for leaving the post, current DNC Chairman Tim Kaine would potentially be offered a top post within the Obama administration, bringing him closer to the core of Democratic leadership in public office should the President be reelected, though Allen declined to speculate what type of post he would be likely to receive.
For now, of course, it's still 2010 and this is all speculation. Compared to a firebrand like Michael Steele, Kaine has proven a bit mild-mannered for the job, and the party enthusiasm gap is clearly showing the difference. Giving Steele an actual antagonist, however, may backfire if their game of brinkmanship pushes Gibbs over the edge. And most importantly for the media: who would be Gibbs' successor? No leads for now, which may be what the White House intended by releasing the news on the coattails of Emanuel's departure and the near-simultaneous implosions of James O'Keefe and Rick Sanchez.
Have a tip we should know? tips@mediaite.com