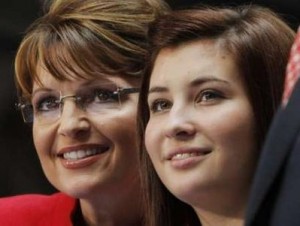 Seeking to make hay out of Willow Palin's Facebook misadventure, among other things, Bonnie Goldstein, Editor of Politics Daily's "Woman Up" blog, writes that the Palin teens "lack supervision," and that "Sarah Palin may want to budget a companionable nanny for the older children."
While we predicted that some would level this attack, it seems counterintuitive that a blog devoted to women's issues would not only see the Palin kids as fair game, but would then perpetuate the sexist notion that parenting is the sole purview of the mother. Todd Palin's name never comes up.

Goldstein begins by describing Palin's team of advisers (husband Todd does rate a mention here), then goes in for the kill:
As long as she's hiring, Palin may want to budget a companionable nanny for the older children. (The Palins' youngest, Trig, and his baby nephew, Tripp, presumably have paid child care.) Eldest daughter Bristol has said she is lonely in Los Angeles while she's away from home dancing and practicing with no family around to look out for her, and back in Wasilla (notwithstanding the attention from next-door neighbor Joe McGinnis), Bristol's 16-year-old sister, Willow, doesn't seem to have much supervision either.
She goes on to explain the TMZ-reported Facebook chat heard 'round the world, but doesn't mention the headline-making slur. (She characterizes it as "ill-considered and hurtful things about the sexual history and/or weight of other posters.") Why bury the lede there? Would it have distracted too much from the portrait of Sarah Palin as maternal failure, and villain of the piece?
In what has to be an unintended irony, Goldstein prefaces her account of the Facebook feud by saying, "The unedited, unscripted moments of a 16-year-old grizzly baby are best left out of the spotlight."
Whatever your beliefs about Sarah Palin as a politician, or a media figure, she's never applied for the job of America's Mommy. Even the members of the press who belonged to the supposed left-wing cabal that was "Journolist" agreed that this line of attack was off-base and off-limits. Ezra Klein, founder of the controversial listserv, said in a Journolist email, "By all accounts she's a wonderful mother, and devoted to her fifth son. Leave this be."
Whether you support Palin or not, especially if you don't, attacks like these only serve to buttress the former Alaska Governor's case that the vicious "lamestream media" is out to get her. To quote Jon Stewart, "Don't make me feel sympathy for the Palins."
Note: Tommy Christopher also writes for Asylum.com, which is owned by Politics Daily parent AOL, and was also a founding contributor to Politics Daily.
Have a tip we should know? tips@mediaite.com