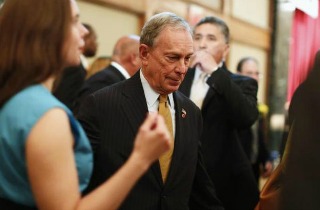 The latest Washington Post-ABC News poll foreshadows a tough midterm election cycle for Democrats heading into November. President Barack Obama's job approval is down sharply on his handling of the crisis in Ukraine and his administration's stewardship of the economy. While Congress remains deeply unpopular, attitudes toward the president generally have a bigger effect on the electorate in midterm election cycles.

But there are some silver linings in the poll for Democrats on individual issues. On the handling of health care, women's issues, gay marriage, the minimum wage, and abortion, both adults and registered voters say that they trust the Democratic Party to more closely represent their views on those issues. Not included on that list of issues which Democrats own, however, is the issue of "gun control." In the latest Post-ABC survey, both voters and adults say that the Republican Party represents their views on the issue of guns.
RELATED: 'Uncomfortable' with Their Electoral Work, GOPer Quits Bloomberg's Anti-Gun Group
Among adults, 44 percent said that the GOP "is closer to your own opinion on the issue of gun control." 39 percent of adults said that Democrats represented their view on the issue of guns. The gap widens among registered voters, 46 percent of which named the GOP as the party that represents their views on guns compared with 39 percent who said the same of the Democratic Party.
49 percent of independent voters backed the GOP on the issue of gun control compared with 29 percent who backed Democrats.
The latest finding is significant as it comes on the heels of former New York City Mayor Michael Bloomberg's group Everytown for Gun Safety announcing their plan to spend $50 million in the upcoming election cycle to elect candidates who promise to enact new laws that restrict gun ownership.
[Image via Brendan Mcdermid / Reuters]
— —
>> Follow Noah Rothman (@NoahCRothman) on Twitter
Have a tip we should know? tips@mediaite.com