Kerry: Russia's Running a Spy Ring in Ukraine, and We've Got the Recordings to Prove It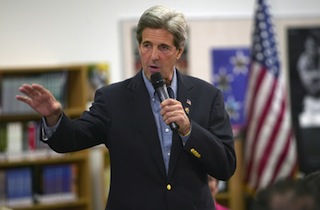 Secretary of State John Kerry said in a private meeting Friday that the United States knows the Kremlin is running an espionage network that is aiding pro-Russian separatist movements in eastern Ukraine, according to the Daily Beast's Josh Rogin, who obtained a recording of the meeting.
"Intel is producing taped conversations of intelligence operatives taking their orders from Moscow and everybody can tell the difference in the accents, in the idioms, in the language," Kerry said, according to Rogin. "We know exactly who's giving those orders, we know where they are coming from."
The remarks come from a private meeting between Kerry and the Trilateral Commission. This is the same tape from which Kerry's "apartheid" comment was culled, a comment that has caused him much grief in the past twenty-four, resulting in a walkback last night.
"It's not an accident that you have some of the same people identified who were in Crimea and in Georgia and who are now in east Ukraine," Kerry continued. "This is insulting to everybody's intelligence, let alone to our notions about how we ought to be behaving in the 21st century. It's thuggism, it's rogue state-ism. It's the worst order of behavior."
Western powers have suspected from the start that Moscow was behind the separatist movements, believing that Russian President Vladimir Putin was trying to undermine Ukraine's fragile post-Yanukovych government and possibly even provoke an invasion of eastern Ukraine.
Kerry went on to point out that if the U.S. had indeed obtained this intelligence, it meant the American intelligence community had successfully parried efforts by Russian intelligence to evade U.S. surveillance.
One thing's for sure: everybody's recording everybody else.
[h/t Daily Beast]
[Image via spirit of america / Shutterstock.com]
——
>> Follow Evan McMurry (@evanmcmurry) on Twitter
Have a tip we should know? tips@mediaite.com