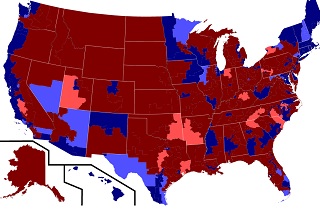 During the government shutdown in October, the public's revulsion with what was widely seen as an uncalled for tactical maneuver resulted in a shift towards Democrats in the generic congressional ballot. A CNN/ORC survey from late October showed voters preferring generic Democrats over Republicans by 50 to 42 percent. That lead has evaporated in the wake of the Affordable Care Act's roll out and CNN/ORC's latest generic ballot polling shows the voting public has turned away from Democrats.

The latest CNN survey shows voters preferring a generic GOP candidate over a generic Democrat by 49 to 44 percent. This represents a 13-point shift in voter sentiment from the height of the shutdown. Furthermore, it shows that the swing towards Republicans has not slowed as the White House focused all its efforts on attempting smooth out the ACA's issues in December. A CNN generic ballot survey from late November showed voters preferring Republicans over Democrats by just 2 points, at 49 to 47 percent.
RELATED: New Poll Shows 21-Point Swing Against Congressional GOP Among Independents
Worse for Democrats, this survey found that voters loyal to the party in power in the Senate are less enthusiastic than average about heading to the polls next year. Only 22 percent of Democrats described themselves as "extremely" or "very enthusiastic" about voting in the 2014 midterms. 36 percent of self-identified Republicans said they were enthusiastic.
This CNN/ORC survey is, however, the strongest showing Republicans have had on the generic ballot in months. The generic ballot question across a number of polls has been particularly volatile. A Fox News poll released on December 16 showed the generic ballot tied at 43 percent while an ABC News/Washington Post poll of registered voters showed Democrats leading Republicans by 47 to 45 percent.
This poll was conducted from December 16 – 19 of 1,035 adults and has a margin of error of +/- 3.0 percent.
[Photo via NY Times]
— —
> >Follow Noah Rothman (@NoahCRothman) on Twitter
Have a tip we should know? tips@mediaite.com