Poll: Nearly Twice as Many Americans Disapprove of Richard Sherman as Approve of Him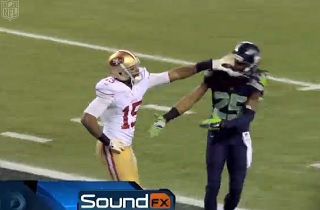 Seattle Seahawks cornerback Richard Sherman has garnered considerable sympathy in the media due to the racist backlash against his now-infamous postgame interview following the NFC Championship, but according to a new survey from Public Policy Polling, those who have an opinion of Sherman overwhelmingly disapprove of him. While 28% of respondents said they had an unfavorable view of Sherman, only 15% had a favorable opinion, with only two groups favoring Sherman more than they disfavored him.
Sherman has been outspoken in his own defense, and unvarnished in his criticism of those who attacked him. Video and audio emerged, last week, which showed that Sherman offered San Francisco 49ers wide receiver Michael Crabtree a congratulatory handshake, only to be met by a shove to the face seconds before the interview in which he lashed out at Crabtree in a sideline interview. Sherman told MSNBC's Chris Hayes, in an interview Monday, that his offer of a handshake was sincere. PPP's poll was taken after the release of that additional video, but it's unclear how many respondents would have had the opportunity to see it.
According to PPP's crosstabs, those who described themselves as "very liberal" favored Sherman at 31%, versus 13% unfavorable, while Sherman polled worst with those who said they were "somewhat liberal," at 8% favorable to 36% unfavorable, just a hair worse than the 27-point difference (12% to 39%) for "very conservative."
Black respondents favored Sherman at 31%, versus 25% who view him unfavorably, but also said they took Michael Crabtree's side by a 19%-10% margin. White respondents favored Sherman at just 13%, versus 28% who view him unfavorable, and Hispanic respondents overwhelmingly view him unfavorably, 45% unfavorable to just 10% favorable. The crosstabs were generally close in other categories like partisan affiliation and 2012 presidential vote, but significantly more men than women had a favorable view of Sherman (19% to 12%), and were also more likely than women to have an unfavorable opinion (32% to 28%).
Here's video and enhanced audio of Sherman's confrontation with Crabtree, from NFL Films:
Have a tip we should know? tips@mediaite.com