Potheads Everywhere Weep: Mexico Destroys 134 Tons Of Marijuana (Beautiful Pictures!)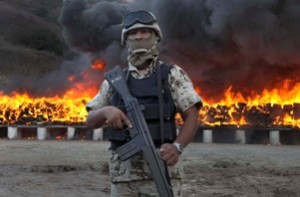 Dude, do you want to see what it looks like when 134 tons of marijuana is destroyed? It's not cool, bro, not cool.
The enormous bust earlier this week likely cost the Sinaloa drug cartel $200 million. So what do we get out of all this? Amazing pictures from the Los Angeles Times of the ceremonial burning of the weed.
The Los Angeles Times' Richard Marosi reported on the burning of one…34 tons down last night in Tijuana, in what amounted to the biggest marijuana seizure in Mexican history. Military estimates put the amount of weed at 334 million joints (seriously, that was the military estimate).
It was a joyous occasion for a country hard hit by the drug war:
The Mexican military's public incineration of seized drugs is a regular occurrence, and this one was accompanied by the usual pomp and circumstance. There was a solemn flag ceremony, salutes and speeches, and a drum and bugle corps played while lines of soldiers, like ants, passed along the marijuana bundles and tossed them into the giant pile…

After Gen. Alfonso Duarte Mugica, Baja California's top military commander, pressed a button from the table of honor, igniting a charge under the sagging platform, flames engulfed the more than 15,000 bundles. Police, soldiers and dozens of reporters moved forward to gawk and take pictures.
And the pictures…were incredible. Mark Boster took the shots, which will likely win awards for him and the LAT.
Check out three more amazing images on the NEXT PAGE. And, you know, sorry potheads.
Have a tip we should know? tips@mediaite.com