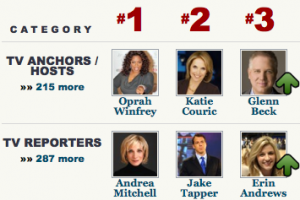 As if to confirm that the pre-Labor Day news drought is officially over, there's been a ton of movement in the Power Grid this past week. Upstarts have risen, giants have fallen, and Eliot Spitzer has broken into the top five TV pundits. What does it even mean, man? Before we answer that, we'd like to introduce a brand-new feature of the Power Grid.
At the end of last week, you may have noticed that we added a new feature to the Power Grid: story aggregation. Now, when you go to a person's Power Grid ranking page, you'll see all of Mediaite's posts that mention that person at the bottom of the page. We think that this feature will make it easier to read up on whomever you're checking out (even if, like many journos, you're checking yourself out), and that it will let you see how the ebbs and flows in a person's influence correspond with what — and how much — is being written about them.
So: back to the rankings. Erin Andrews is back up to #3 among TV Reporters, from #48. This has less to do with any major journalistic endeavors of her own and more to do with the frenzy of interest about her interview with Oprah last Friday.

Lou Dobbs, on the other hand, has slid into the pits: he's down to #84 among TV Anchors/Hosts, thanks largely to worsening ratings. It doesn't help that Joy Behar is taking over his former spot on HLN on September 29th and that the network is phasing Dobbs out as a result. A hypothesis: maybe if Dobbs pulled a John Stossel and left CNN for Fox, where some of his more conservative views might find a more welcome home, he'd make a comeback — though he would be contributing to the growing homogenization of cable networks.
As for Spitzer's #5 slot in TV Pundits, up from #11, he's been in the spotlight for his vocal critiques of the financial system and because of the rumors that he's thinking about reentering politics. But in a perverse way, it also helps that his former call girl Ashley Dupre is releasing pop songs and getting the New York Post to follow her every move. Every time she comes up, he comes up.
You may have heard of a chap named Glenn Beck, who this site occasionally writes about despite his notorious shyness for publicity. Last week, I expressed my surprise that Beck's ranking hadn't climbed further than it had. Well, this week, he arrived on the Grid: he's now the #3 TV Anchor/Host, behind only Oprah and Katie Couric. In addition to staying in the news, his TV ratings keep going up — at 3,340,000, he now has more than three times as many viewers as Anderson Cooper, who clocks in at 1,106,000 (and #45 on the Grid).
So: what do Erin Andrews and Glenn Beck have in common? They do well on the Power Grid because they don't just report the story, they are the story. Erin Andrews surely wouldn't have wanted it to happen this way. In her interview, she told Oprah that she has felt "anxious" and "paranoid" since the peephole video, and that she thought her career was over. As for Beck, he's relished the opportunity to become a political force, going after Obama 'czars' and leading the 9/12 rally.
In the new media landscape, the lines between your personal life and your professional life are blurrier than ever before. But is that a good thing? Unless you're an ex-call girl with a CD to sell, it's tough to say.
Have a tip we should know? tips@mediaite.com