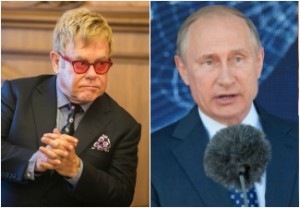 On Wednesday, Sir Elton John excitedly announced on Instagram that he and Russian President Vladimir Putin had spoken on the phone. Why? Because, according to the internationally renowned musician, he and Putin were going to meet in person to discuss Russia's attitude towards the LGBT community.
Unfortunately, The New York Times subsequently reported that John hadn't talked with Putin, as the Kremlin denied the conversation ever took place. So if the Kremlin was telling the truth, then who did the musician actually talk to?
Russian celebrity prankster Vladimir Krasnov and his partner Alexei Sotlyanov, according to NBC News.
"We thought Putin is unlikely to call and meet him at least in the near future," Krasnov told the Russian newspaper Komsomolskaya Pravda. "But Elton John turned out to have been eagerly awaiting the call and so he immediately believed in the reality of the conversation with the people we were pretending to be."
According to Krasnov, when they told the musician who was allegedly waiting on the line for him, he couldn't contain his excitement.
"Thank you, you've made my day," John supposedly said. "This is the most great and amazing day and conversation in my life!"
The pair recorded the entire conversation, which lasts around 11 minutes, and published it to YouTube. Full audio from the conversation has since made the rounds online.
In response to the news of the prank, John published a new Instagram post Thursday morning: "Pranks are funny. Homophobia, however is never funny."
Despite being made a fool on the international stage, however, the singer reiterated his stance on Russia's mistreatment of the LGBT community and his offer to discuss the matter with Putin.
"I love Russia and my offer to talk to President Putin about LGBT rights still stands," he said. "I will always stand up for those that are being degraded and discriminated against."
Check out the clip below, via NBC News:
[h/t NBC News]
[Image via Shutterstock.com]
— —
>> Follow Andrew Husband (@AndrewHusband) on Twitter
Have a tip we should know? [email protected]