President Obama Takes Mild Swipe At Donald Trump In Fundraising Campaign Email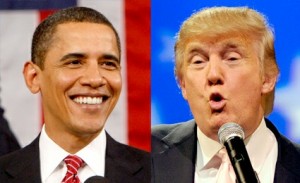 As Birther Inferno Donald Trump once again streaks across the skies of presidential politics like the Norse God of Signal Flares, the Obama campaign has feinted at some Trump-related body blows to Republican nominee Mitt Romney. In a fundraising email to supporters this morning, President Obama himself referenced Trump, without naming him, as "a TV personality who's spent the last week questioning where I was born."
Here's the email, from President Barack Obama:
subject: In the clutch

Tommy — (because we're cool like that)

Think about this: Today, our opponent is facing the same fundraising deadline we are.

But the people I'm counting on at this crucial moment could not be more different.

He's relying on high-powered special-interest groups and a TV personality who's spent the last week questioning where I was born.

Our campaign is built by millions of ordinary Americans chipping in what they can, when they can.

Will you help out before midnight? Make a donation of $3 or more right now:

https://donate.barackobama.com/Deadline-Tonight

Thank you, as always.

Barack  (because we're cool like that)

The problem with the Trump attack is that the President, his campaign, and even White House spokesman Jay Carney are, at once, telling you it's a big joke and that Romney's embrace of Trump is supposed to be a problem. The campaign's ad on the subject is backed by a jaunty bluegrass harmonica sound bed, while both Carney and senior Obama campaign advisor David Axelrod have characterized the Birther issue as "crazy" and "a ridiculous distraction."
Here's what Carney said at yesterday's White House briefing: (transcript via email from The White House)
Q And one other issue. I don't know if you were watching CNN yesterday with Donald Trump.

MR. CARNEY: Always. (Laughter.)

Q Donald Trump was going at the birther issue, and I wonder if there is any reaction to the fact that this continues to be an issue in this campaign.

MR. CARNEY: I think it's up to, as I mentioned yesterday, those who seek the office to decide how they will run their campaigns and what views they associate themselves with. As the President made clear in this briefing room when this became a ridiculous distraction last year, the American people are concerned about real issues that confront this nation, that concern principally with the fact that we are still not down the road to the final destination of full recovery from the worst recession since the Great Depression.

Those are the things — jobs and the economy, the security of the nation, security of the American people — that I think voters overwhelmingly care about. I think one man's attempt to draw attention to himself by engaging in this kind of ridiculousness doesn't really change what most Americans care about.

Q So it's still a ridiculous distraction?

MR. CARNEY: Well, I think so. Do you not?

Q I don't know. I'm asking you.

MR. CARNEY: Well, I think it is.
If that's all it is, then this is an ineffectual attack on Romney. Miraculously, Trump isn't even close to the craziest, most ridiculous Romney backer. In order for this line of attack to have any meaning, the campaign needs to explain to voters why they should care that Romney is cozying up to Trump, why it's bad. Most Americans (especially the independents who decide elections) have never been asked for their papers for no good reason, so while the fact that Trump is still asking for proof of Obama's birthplace is weird, they won't necessarily find it ugly. People who have never had their privacy or dignity violated this way are just as liable to say "Well, if you've got nothing to hide, why not just show it?"
At the very least, if they're not going to make the most of the Birther angle, couldn't they point out that Job Creator Romney is palling around with a guy whose actual catchphrase is "You're fired?"
Have a tip we should know? tips@mediaite.com