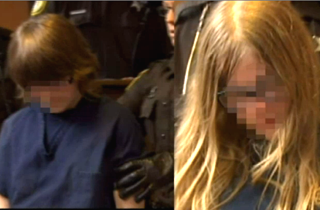 In a horrific story of memes going wrong, two 12-year-old girls from Waukesha, WI are charged with planning the murder of a third friend and attempting to stab her to death, in order to appease the "Slender Man," a popular fictional character created on a web forum ten years ago.
The two girls will be tried as adults due to the unusual nature of their crime and the fact that they planned the murder for months. According to the police, the two girls invited a third girl to a sleepover on May 30th, before luring her into the woods and stabbing her 19 times, then left her for dead. Thankfully, the girl survived her wounds, crawled to a road, and was found by a bicyclist who immediately called 911. (She is currently in stable but serious condition.)
While the details of the attempted murder are gruesome enough, the rationale behind their attack was highly bizarre and unusual: the girls claimed that they wanted to sacrifice her to Slender Man "to prove themselves worthy of him." From the Sentinel, with names redacted due to their age:
Both suspects explained the stabbing to police referencing their dedication to Slender Man, the character they discovered on a website called Creepypasta Wiki, which is devoted to horror stories.

[Girl #1] told police that Slender Man is the "leader" of Creepypasta, and in the hierarchy of that world, one must kill to show dedication. [Girl #1] said that [Girl #2] told her they should become "proxies" of Slender Man — a paranormal figure known for his ability to create tendrils from his fingers and back — and kill their friend to prove themselves worthy of him. [Girl #1] said she was surprised by [Girl #2]'s suggestion, but also excited to prove skeptics wrong and show that Slender Man really did exist.

The suspects believed that "Slender," as [Girl #1] called him, lived in a mansion in the Nicolet National Forest in northern Wisconsin. The plan was to kill the victim and walk to Slender's mansion.
Slender Man, however, is the opposite of an urban legend: its creation can actually be tracked to a 2009 post on the SomethingAwful.com forums, in a Photoshop battle thread where users were challenged to insert supernatural entities into photographs and provide a backstory for their images. The concept of Slender Man — a faceless masked man, unusually tall with endless limbs with the ability to make children disappear — immediately went viral, inspiring movies, video games, parodic tributes, and countless fictional stories loosely centered around the figure.
Arguably, the user-generated nature of Slenderman was the genesis of "creepypasta," a web-based genre of horror fiction that intentionally blurs the line between reality and fiction. In an article in Aeon Magazine, Will Wiles describes creepypasta as a type of modern folklore, gaining its imaginative legitimacy in the way that stories that really happened, seriously, it happened to my cousin's friend's brother often do:
Creepypasta aspires to be: urban legend, dark social memes with just enough familiarity to give a frisson of awful possibility. Much of it is spread with little authorial ego. But it is also self-consciously fiction, created for perverse pleasure, the pleasure of fear. It is weird fiction.
The two girls face up to 65 years in prison.
Watch a report on the story below, via NBCNews:
[MWSJ.com]
[Image via NBCNews.com]
—
>> Follow Tina Nguyen (@Tina_Nguyen) on Twitter
Have a tip we should know? [email protected]