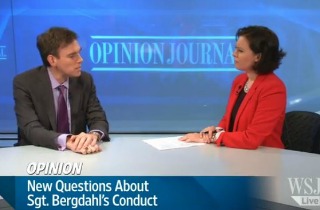 In an appearance on WSJ Live, Wall Street Journal columnist Bret Stephens strongly criticized the White House's handling of the negotiations which resulted in the release of five Taliban prisoners in exchange for U.S. Army Sgt. Bowe Bergdahl. Stephens said that the combination of the White House's incompetent handling of that exchange combined with the mendacity of National Security Advisor Susan Rice claiming Bergdahl's service was "honorable" makes this event worse than the White House's handling of the Benghazi attack.

Stephens stressed repeatedly that the allegation against Bergdahl, that he abandoned his post and may have sought defection to the enemy, have not been proven. However, he said what is proven is that American treasure and servicemen's lives were lost while trying to recover him.
"So, I think that before we start treating him as a hero, and before we start treating this as a great victory for the Obama administration and proof that we don't leave any man behind on the battlefield, we Americans are owed an honest account of exactly what this soldier did and what kind of price was paid," Stephens said.
RELATED: Gen. Barry McCaffrey: Susan Rice Misled the Public on Sunday Shows… Again
He went on to criticize Rice for saying Bergdahl served with "honor and dignity."
"There's just a great deal of evidence that he did not serve that way," Stephens said. He wondered why the administration would invite Rice to repeat a mistake that was made in the immediate aftermath of the Benghazi attack.
"I think this story is actually far more disturbing to me than Benghazi," Stephens added. "Now, we have a story in which, presumably the administration knew the circumstances of this soldier vanishing, knows exactly who we're giving up – senior Taliban commanders – in order to get him back, and nonetheless is milking this as a great political triumph."
The columnist said he was "stupefied" by the administration's conduct in this case.
Watch the clip below via WSJ Live:
[Image via screengrab]
— —
>> Follow Noah Rothman (@NoahCRothman) on Twitter
Have a tip we should know? tips@mediaite.com