Prickly Scarborough Defends Trump Meetings, Compares Them to Ben Bradlee and JFK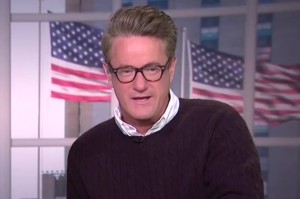 After spending the better part of two days getting into Twitter fights with reporters and defending his meeting with President-elect Donald Trump at Mar-a-Lago by comparing himself to Ben Bradlee and Tom Brokaw, MSNBC's Joe Scarborough ended the night by posting an opinion column in the Washington Post.
And, of course, it was about the whole kerfuffle surrounding his tantrum about the claim that he "partied" with Trump on New Year's Eve.
Despite already giving an extensive interview to CNN Money's Dylan Byers about this subject, Scarborough decided he needed to cover much of the same ground while going out of his way to present himself as a victim of media bias against Republicans.
After going into detail about his two meetings with Trump last week at Mar-a-Lago, Scarborough went the same direction that he did on Twitter and in his Byers interview — he compared himself to Bradlee, the famed longtime editor of the Washington Post.
I do not know whether we will end up with an interview with the incoming president next month, but I do know that the reaction from some media reporters has been an equal dose of hyperventilation and hypocrisy that such a meeting ever took place. Never mind the inconvenient fact that a passel of reporters and media types has had more meetings with the current president than Mika and I have ever had with Trump. Also don't bother yourself with boring details of history that show how Washington Post legend Ben Bradlee was extraordinarily close with JFK, or how New York Times legend Joseph Alsop practically kicked down John Kennedy's door at the 1960 Democratic convention to demand that Lyndon Johnson be his vice-presidential pick. And forget the fact that Walter Lippmann constantly offered LBJ advice, or that Washington Post publisher Katharine Graham was close friends with Nancy Reagan and a regular dinner companion with Nancy and her powerful husband. Oh, and please don't bother yourself with the fact that Edward R. Murrow quit CBS News to go work for the Kennedy administration just as Time's Jay Carney jumped from the campaign trail to be communications director for Vice President Biden.
Oh, nothing to see here. Just Scarborough invoking JFK and Edward Murrow to justify his two-day fit for being photographed at a New Year's Eve party of the incoming POTUS and then taking issue with someone saying he "partied" that night.
Beyond all of this, though, is Scarborough's dogged insistence to directly compare himself to not only legitimate journalists and reporters, but outright legends. As Byers discussed with Scarborough in his interview, he doesn't see Scarborough as a reporter but rather a pundit. Even Joe acknowledged that he was a "news analyst," while continuing to present himself in the company of journalistic giants.
And, indeed, towards the end of his screed, he labels himself a reporter. OK, Joe. OK. Whatever you need to tell yourself.
All I want to know is if we're going to be subjected to another day of bleating, whining, and victim-playing from a rich ex-Congressman who is provided a huge platform to bloviate to his heart's content about whatever he's sees fit that day.
[image via screengrab]
–
Follow Justin Baragona on Twitter: @justinbaragona
This is an opinion piece. The views expressed in this article are those of just the author.