Professor: I Don't Want to Write Recommendation for Student Because She Likes Guns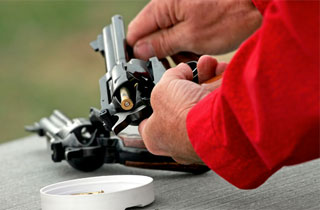 An anonymous professor writing for The Chronicle for Higher Education revealed Monday that she was agonizing over whether to give a recommendation because the student in question was a gun enthusiast.
The professor, writing under the pseudonym Myrtle Lynn Payne, writes that her student "Sarah" was not academically strong, but a classroom leader with great energy. "Sarah said she was applying to a teacher-credential program and asked me for a recommendation. Initially I said yes because I usually do."
But two incidents weighed on the professor's mind. "Sarah shared that the most notable experience of her winter break was a visit to a gun range where she had fired an AK-47. I gave the usual 'very good, moving on' response but was thinking, 'Whoa, that's disturbing.'"
"Later, when Sarah was a student in another one of my courses, I overheard her confiding that she was looking forward to getting her concealed-carry permit," she frets.
On the strength of those two incidents alone, the professor agonizes over whether or not to give the student a recommendation. "It's so complicated. On one side are all of my ideas about supporting students, honoring their individuality and their journeys, creating a safe space for them (and myself), not taking things out of context, not overinterpreting. On the other side are my memories of growing up in a situation where guns, people, and bullets had to be rigorously kept apart, lest they find each other in a tragic moment of instability."
"So what do I do?" the professor wonders. "Do I write her a recommendation because I originally said yes? Do I say no and explain myself? Do I ignore her email?" The reader never finds out what course she chose.
[Image via screengrab]
——
>>Follow Alex Griswold (@HashtagGriswold) on Twitter
Have a tip we should know? tips@mediaite.com