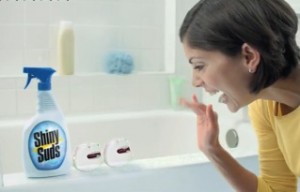 Public Service announcements have come a long way since Smokey the Bear sternly assigned us all with the task of preventing forest fires and Woodsy the Owl asked us to "Give a hoot, don't pollute!"
Nowadays, the trend is toward edgy, "Look at me!"-type spots designed more to generate buzz than to deliver a message. This is exemplified by two new environmental spots (via AdFreak) that are so wrong, they're just…wrong.
The first is a UK spot for PlaneStupid.com that aims to showcase the environmental impact of air travel in weirdly metaphoric terms. The spot is somewhat graphic, and like September's WWF ad, disturbingly evocative of 9/11:
Since they're not based in the US, perhaps Plane Stupid can be forgiven the 9/11 imagery, although their logo and their donation pitch don't help any: (emphasis mine)
We won't pretend sponsoring us makes up for taking a weekend break in Prague, or flying to the Copenhagen conference. But we promise that we won't spend it on fancy chairs for our office. To tell the truth, we don't even have an office. All we have is a burning desire to stop domestic flights and a spectacular plan… which we can't afford on our own.
I contacted PlaneStupid.com for comment, and I'm awaiting their reponse.
The second spot, a parody of SC Johnson's "Scrubbing Bubbles," is from the makers of Method soap, and it's supposed to make you support ingredient labeling of cleaning products. The clip is funny and disturbing at the same time, creepily making its point. On the other hand, I guarantee you'll spend part of your day singing the parody jingle, and the rest of your day trying to get the Bill O'Reilly-esque catchphrase "Use the loofah" out of your head.
A Shine-tastic job!!!
While the ad is certainly memorable, the cause attached seems more designed to deliver the message that Method is awesome and everyone else sucks. I'm sorry, but I don't see ingredient labeling as having much of an impact.Anyone who cares enough probably already uses greener products, and I don't see the average American looking at a label and saying, "Dialkyldimethylammonium methyl sulfate? Eff that!!!"
The PSA's of old had only 30 to 60 seconds to make their point, whereas today, all you need is an attention-getting hook to get people to your website. Perhaps it's just as well. Poor old Woodsy Owl would probably be branded a Marxist socialist freak today, and wind up as a plate of hot wings.
Have a tip we should know? [email protected]