Rachel Jeantel's Twitter Account Reportedly Scrubbed, Read The Deleted Tweets…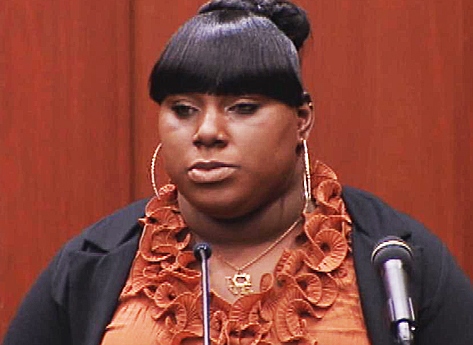 Rachel Jeantel, the state's star witness in the George Zimmerman murder trial, took the stand on Wednesday and Thursday to testify to the conversation she had with Trayvon Martin shortly before his death. However, before she took to the stand, as The Smoking Gun details, a Twitter account reportedly belonging to Jeantel was scrubbed. The scrubbed tweets include mentions of the trial, Zimmerman's brother, and references to smoking and drinking.
Some of the scrubbed tweets are fairly standard, talking about thinks like school and hanging out with friends, but some of them say things like "The only thing I do is jus drink" and "Party time let get high."
And then there are tweets with direct references to the trial. The Smoking Gun claims that Jeantel tweeted, in reaction to the revelation that she lied to investigators when she said she missed Martin's funeral due to a hospitalization, "Jus got home n hear wat was going and I'm angry." There were also tweets that referred to Zimmerman's brother, Robert Zimmerman, Jr., in apparent reaction to controversial tweets he himself posted about the media treatment of Martin and his brother.
In an April 4 tweet, Jeantel recounted a tweet she had received from "J" asking her "did you see the bro talking shit bout u." Her tweet concluded, "oh really I have jackass lawyers on my ass kno "JR" want to up in ok."

The following day Jeantel tweeted, "JUST FOR 'JR'," and included a link to a Twitpic showing someone giving the camera the finger. The image was deleted last night.
Here are screenshots of some of the other tweets saved by the Smoking Gun:



You can read The Smoking Gun's full report here, as well as the list of scrubbed tweets they collected.
—–
Follow Josh Feldman on Twitter: @feldmaniac
Have a tip we should know? tips@mediaite.com
Josh Feldman - Senior Editor