Rachel Maddow Gets In Epic Battle With GOP Congressional Candidate Art Robinson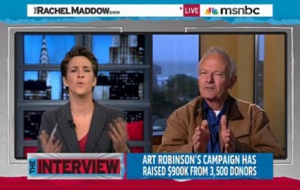 Art Robinson is the GOP candidate for Oregon's Fourth Congressional District. Last night he bravely went on to The Rachel Maddow Show to discuss his background and some specifics of his campaign. Host Rachel Maddow calmly tried to get to know Robinson by asking specific questions about his previous writings, but was not very successful in getting past Robinson's claims that the host was "smearing his reputation," "throwing mud" and "sarcasm." Oddly, this style of"opiniotainment" was really fun to watch.
The segment was initially set-up by Maddow with concerns that Robinson is benefiting from an anonymous campaign donor who has provided $150,000 to help his campaign. Right of the bat, Robinson got his back up in a way that seems almost like he decided to be incredibly combative before the interview even began. Either that, or he's extremely thin-skinned about his previous writings. Or maybe he's just a jerk.
To her great credit, Maddow never loses focus, nor patience, in her attempt to ask Robinson about some of his theories, both scientific and conspiratorial, but never really gets past Robinson's rather aggressive push back. Perhaps the following rough transcript of the last bit of the interview best exemplifies the "discourse" evidenced in the interview (provided by MSNBC):
>> one of the things that happens in satellite is there's about a 1 1/2-second delay between me asking a question and you hearing it. so you can interpret that as sarcasm and interruption, but it's just the way the medium works. i'm sorry that's been so awkward for you.

>> no, no. that's not the speed of the delay. it's the speed of light. it's much less on that.

>> you asked one of me.

>> if every time i try to clarify what i'm asking or what you're saying you're going to call me sarcastic, then no. let me try to get an answer to an earlier question.

>> ask a question and i'll answer it.
>> do you get the speed of light thing? not happening here. there was no editor, you weren't taken out of context that aids was a government conspiracy, that it wasn't real that the government wuss misclassifying —

>> i never, ever in my life made a statement like that. you are lying. i never made a statement like that. i know it. the statement you made is an outright lie.

>> quoting from mr. robinson's newsletter.

>> look, look, it's on the screen. only government reclassification of more and more disease types as aids cases has kept the number of victims at politically necessary levels. you wrote it, i'm quoting it. do you no longer believe it?

>> no, you —

>> madam, i'm not going to discuss — what happened to hermeses. 15 years ago in a large discussion of many thing, you go right ahead. i can't even check your quotes and i don't trust trust you.
>> they're your own quotes, but if you want me to send you your own newsletter back issues, i will.

>> ma'am, no, no. why don't you read everything that was written about it.

>> oh, my god, i read so much of your stuff i can't even tell you. there's a reason i look glazed over today. it's reading your conspiracy theorys. sads a government conspiracy, radiation at low levels is good for you and public education should be abolished. i have enjoyed learning about you. i've learned a lot about your temperament and also some interesting theories about the speed of light. a man who denies that his own words are his own and then accuses me of lying about them, republican congressional candidate art robinson, thank you for joining us tonight.
Ms. Maddow has been lauded for her sanity here on Mediaite, and she's long been pretty vocal about how eager she is about have a Republican on her show (though with mixed results.) So while the following clip was fun to watch, it's still rather disappointing that when she finally gets a chance for a reasoned discussion with a GOP candidate, it serves only to exemplify the bitter divide we are currently living in.
This is what it sounds like when doves cry.
Have a tip we should know? tips@mediaite.com
Colby Hall - Founding Editor