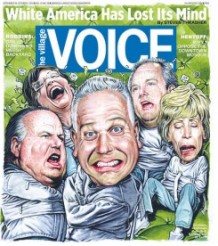 Day was one awaited the Tuesday night delivery of early Village Voice copies with a certain amount of anticipation (or at the its classifieds…but the rest of the paper to some extent, also!). These days the Voice generally makes itself known in the media world through its excellent blog Runnin' Scared or by way of plain old aggregation, which is how I came across last week's cover story: "White America Has Lost Its Mind: The white brain, beset with worries, finally goes haywire in spectacular fashion." Which is sort a spectacular title, it must be said and attempts to explain the current national mood. Behold.
About 12:01 on the afternoon of January 20, 2009, the white American mind began to unravel.

It had been a pretty good run up to that point. The brains of white folks had been humming along cogently for near on 400 years on this continent, with little sign that any serious trouble was brewing. White people, after all, had managed to invent a spiffy new form of self-government so that all white men (and, eventually, women) could have a say in how white people were taxed and governed. White minds had also nearly universally occupied just about every branch of that government and, for more than two centuries, had kept sole possession of the leadership of its executive branch (whose parsonage, after all, is called the White House).

But when that streak was broken—and, for the first time, a non-white president accepted the oath of office—white America rapidly began to lose its grip.
That's the thesis, more or less. Here's some, er, highlights:
"Glenn Beck is one of the downright terrified, and has said that Obama has "a deep-seated hatred of white people or the white culture." Which makes you wonder, has Beck really not seen Obama in his golf attire?"
"The reaction from white America, who clearly had not remembered to take their thorazine that morning, was overwhelming: Who, if not Laura Schlessinger, should say "nigger" with impunity?…Sarah Palin then rushed to Schlessinger's, side, Tweeting in her inimitable style, "Don't retreat . . . reload!" Palin, we can only assume, wanted Schlessinger to utter "nigger" as often as she wanted.Perhaps the two of them, having both quit their jobs, can get together and put on a road show, opening with "Zip Coon" and finishing with a rousing rendition of "Carry Me Back to Ole Virginny"?"
"Is there any hope? Can the white mind be cured? And what—other than a massive lobotomy—can salvage it? It's hard to imagine a cure when, at this point, the patient doesn't seem to realize that he's sick. Rush Limbaugh, for example, has declared that it's black Americans who have a problem. The "black frame of mind is terrible" because of unemployment, and, equally important, because of "Tiger Woods's choice of females," he has said. What was that about a pot and a kettle?"
Indeed. If nothing else, no one can accuse the Voice of not having cojones. Read the full piece here.
Have a tip we should know? tips@mediaite.com