Radio Network CEO: Limbaugh's Sandra Fluke Comments Are 'Still Causing Problems' With Advertisers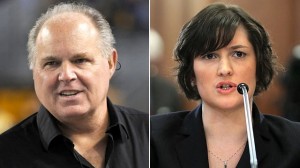 Remember last year when Rush Limbaugh ignited national controversy last year when he called Georgetown law student Sandra Fluke a "slut" for her advocacy on contraception? Well, Cumulus Media CEO Lew Dickey said today those comments, made one year ago this month, are still having an adverse impact on the radio industry. In an interview with radio industry newsletter Tom Taylor Now, Dickey said there are still issues with advertisers being wary of Limbaugh's program because they still consider his show to be too toxic.
RELATED: Memo Shows 96 National Companies Want Their Ads Pulled From Limbaugh's Show
In the wake of Limbaugh's provocative comments last year advertisers were reportedly fleeing his show by the dozens, and that problem is still continuing to plague the radio business, as far as Dickey sees it.
"Clearly, it's been well documented that the talk side has been challenged. Most of that due to some of the issues that happened a year ago and so there has been residual hangover on the talk side in terms of advertisers sitting out and not placing there." What started with Media Matters focusing on Rush widened out to talk radio in general. Dickey, owner of such big talk stations and Rush affiliates as WABC, New York (770) and WLS, Chicago (890) says "Clearly that's had an impact not only on our network business [at Cumulus Media Networks], but it's had an impact on some of the news talk stations that we own."
Media Matters detailed earlier this month how Limbaugh's comments are continuing to hurt the entire talk radio industry.
h/t Media Matters
—–
Follow Josh Feldman on Twitter: @feldmaniac
Have a tip we should know? tips@mediaite.com
Josh Feldman - Senior Editor