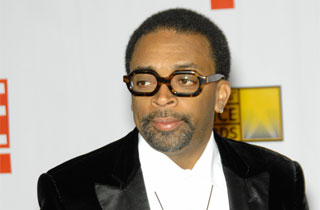 Recently re-elected Chicago Mayor Rahm Emanuel met with director Spike Lee this morning to argue over his latest movie titled Chiraq, which Emanuel wasn't a fan of, for obvious reasons.
"We had an honest, frank conversation,"he told The Chicago Tribune. "He said that while the movie is about the neighborhood of Englewood, I was clear that I was not happy about the title. I told him also that there are very good people that live in Englewood who are raising their family and there's a lot of positive things that are happening in Englewood mainly driven by the people that make up Englewood."
Lee's film, which will be produced by Amazon and is rumored to have Samuel L. Jackson, Jeremy Piven, and Kanye West in the cast, is named after a term used by Chicago rappers to describe the warzone-like nature of many Chicago neighborhoods. This is a term of contention for Emanuel, who ran for office in 2011 on a platform of reducing crime and famously promised to put 1,000 more officers on the streets, but failing to deliver on that promise while crime spiked in his first year. (A Chicago Tribune poll found that 62% of Chicagoans believed that crime levels were the same as they were before Emanuel took office; not an awful statistic, but still not very good, either.)
While Emanuel had clear problems with the name, he admitted that Lee's project would likely cast light on an important issue, seen in Chicago and throughout the United States:
"He did say the movie would take on the subject of black-on-black violence, specifically African-American male to African-American male violence, and how it's affecting the community and what goes on," Emanuel said. "I said then, and I believe, that's an important conversation to have. Given you're a great artist, while I don't support the title and I don't like the working title, the topic is a conversation that has been ignored for too long and needs to be discussed. And hopefully through art we can have a serious conversation about what is happening in urban America as it related to African-American males and the violence that is occurring between and within a community that affects all of us whether we're quote-unquote part of the community."
It's not clear whether Lee will change the movie's title, but we're pretty sure it won't be An Artistic Mediation Intending to Spark National Conversation About the Origin of Black-on-Black Violence And How It Can Be Resolved, or, the Unexpected Virtue of Not Calling Chicago 'Chiraq', which we believe is the title Emanuel prefers.
[The Chicago Tribune]
[Image via Featureflash / Shutterstock.com]
—
>> Follow Tina Nguyen (@Tina_Nguyen) on Twitter
Have a tip we should know? tips@mediaite.com