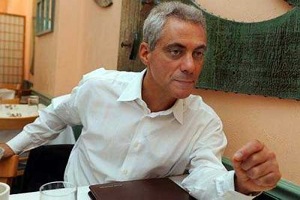 Former White House Chief of Staff Rahm Emanuel's campaign for mayor of Chicago is going… well, mostly as expected. The feisty former Congressman has been conducting "listening tours" of the city where he's been caught using hand sanitizer (!) after talking to constituents and driving reporters to paroxysms of violent rage. Now he brings the fun to the Chicago Sun-Times, who describe him as "characteristically combative" and "downright annoyed" at some of their questions.
The interview is the first extended one he has given since the announcement he is running for mayor, sitting with reporter Fran Spielman and answering some uncomfortable questions about his relationship with Rod Blagojevich, his platform issues and his overall likability (let's just say it doesn't sound like Spielman thinks Emanuel is a people person).
First, the Blagojevich mess, in which Emanuel admits no wrongdoing. Asked about his dealings with Blagojevich, Emanuel only states that he gaves the governor a list "of four credible candidates," but once prodded to explain what he was doing passing around names anyway, he asks the interviewer, "They're prosecuting the governor, correct? Am I [being prosecuted]?"
It gets slightly more uncomfortable than that. First, Emanuel finishes up the Blagojevich topic, admitting he "can't remember" whether he cursed on the tapes or not but reaffirming that he did nothing wrong. But he falls out of the frying pan and into the fire, asked first about Blagojevich and later by accusations by former Congressman Eric Massa:
Q. In order to vote for someone, you have to like them. How do you like somebody who waves his middle finger at someone in a steam room?

A. That never happened.

Q. Your personality has been described as abrasive. How would you describe it?

A. I describe it as the ultimate middle-child. We wrote a book called, "War or Peace."… I am driven on behalf of the people I represent … I will fight for Chicago — not with Chicago. … People who have worked with me have worked years with me. And there's a sense of deep loyalty.
Well, that's that– Rahm Emanuel is just "the ultimate middle-child," in what is probably the ultimate euphemism. To his credit, Spielman was only one step remove from just asking Emanuel why everyone hates him, so he fielded those questions as well as anyone can expect. The rest of the interview goes only slightly more smoothly, as it deals with policy and his relationship with the Daley family. One has to wonder how the Sun-Times will treat the other candidates, and whether they will be anywhere near as abrasive.
[Photo via Chicago Sun-Times]
Have a tip we should know? tips@mediaite.com