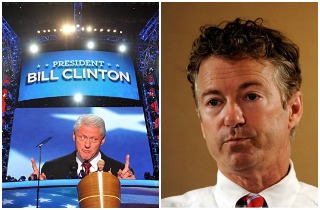 On Wednesday, Newsmax host Steve Malzberg praised Sen. Rand Paul (R-KY) for saying what few on either side of the political aisle have said about how former President Bill Clinton's past indiscretions should nullify Democratic accusations that the GOP is mounting a "war on women." Paul went a step further on Malzberg's show, calling Clinton a "repetitive" "sexual predator."

Malzberg called the "irony" of Democrats praising Clinton's legacy while at the same time accusing Republicans of condoning rape "twisted" and "sick." He praised Paul for highlighting that hypocrisy in stark terms. David Becker/ZUMA Press/Corbis
RELATED: Rand Paul: Bill Clinton's Past 'Doesn't Really Apply' to Hillary
Paul noted that it would be highly controversial if a political figure accepted a donation from "an unsavory character." He asked how it would be perceived if that "unsavory character" was a candidate's husband or friend raising funds for Democratic politicians across the nation.
"Obviously, having sex with an intern in the office is inappropriate by any standard," Paul said. "And where are the women who believe in women's right, the women who allege some kind of war is going on by the other party, where are they to stand up and say, 'You know what? Maybe Bill Clinton isn't the best representative of our party since he really depicts what's really gross and wrong with workplace harassment?'"
"Would you call him an unsavory character?" Malzberg asked.
"Yeah," Paul replied. "I mean a predator, a sexual predator, basically."
He said that there are at least six women who have alleged inappropriate behavior by Clinton, some of whom went to court and litigated the issue.
"If they want to be credible in saying they defend women's rights in the workplace, they really need to disown and return any contributions that Bill Clinton's either raising for people or giving to people," Paul concluded.
Watch the clip below, via Newsmax TV:
[h/t Newsmax TV]
[Photo via AP/David Becker/ZUMA Press/Corbis]
— —
> >Follow Noah Rothman (@NoahCRothman) on Twitter
Have a tip we should know? tips@mediaite.com