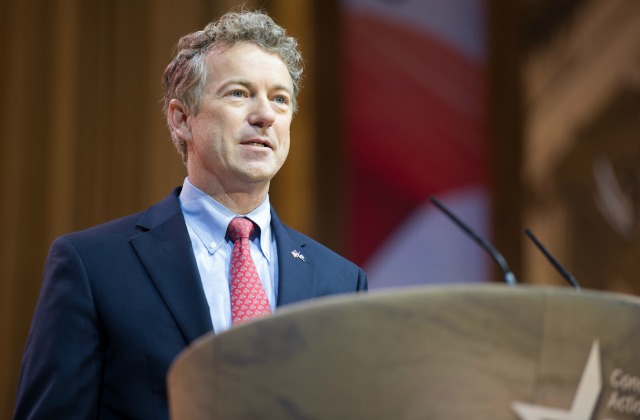 Over the past 24 hours, an extraordinary conservative talking point was born: If Sen. Rand Paul (R-KY) thinks so poorly of his own party's aggressive foreign policy vision, then he should just pack up and leave.
Senator Paul's act of heresy? Daring to suggest that the Republican Party's hyper-aggressive hawkish wing at least partially contributed to the environment in which the militant Islamic State of Iraq and the Levant currently thrives.
The libertarian-leaning senator famously holds noninterventionist views on foreign policy, and opposes the Patriot Act, NSA surveillance programs, and much of President Barack Obama's drone policy. Such positions have led to inevitable clashing with the likes of Sens. Lindsey Graham and John McCain, Rep. Peter King (shocker!), Govs. Chris Christie and Bobby Jindal, Fox News pundits, and certain publications who've nary met a war they didn't like.
Each time, their line was nearly the same: Sen. Paul is "to the left" of President Obama on foreign policy. But with the senator's controversial soundbite on Wednesday came a ramped-up talking point that will likely last throughout the rest of the GOP primary: Rand Paul should just run as a Democrat already.
Behold how quickly this new response to Paul's blasphemy has become the party line:
On Sunday, before the senator ever made the ISIS comments, Weekly Standard chief Bill Kristol set the hawkish talking points table with this line on ABC's This Week: "Rand Paul has now decided he wants to be a liberal Democrat — undercut necessary intelligence collection, weaken the police officers and our intelligence services."
And then after Paul made his dissenting remarks, our former colleague Noah Rothman declared over at Commentary (a magazine founded by neoconservative icon Norman Podhoretz) that "Rand Paul is Running for the Wrong Party's Nomination." The senator, he wrote, "is no longer waging a broad-based campaign to win the Republican nomination," and his "juvenile and unconvincing" attacks on GOP hawks "looks more and more like a factional effort to compel the Republican Party to embrace the libertarian foreign policy prescriptions."
The Wall Street Journal followed suit. "[A]n aide might want to remind Senator Paul which party's nomination he is seeking," the paper's editorial board snarked.
During a Wednesday evening appearance on Fox's The Kelly File, former George W. Bush press secretary Dana Perino suggested a Republican candidate should cut an attack ad, saying, "A vote for Rand Paul is a vote for Obama's third term."
On Thursday morning, Rick Santorum thumped his chest for Fox & Friends and said that Sen. Paul sounds like self-styled socialist Senator Bernie Sanders (I-VT) and is clearly running for the wrong party's nomination.
And then anti-terror-only-when-it's-of-the-non-Irish-brand Rep. Peter King didn't miss his opportunity to get in on the talking point du jour, proclaiming that "I think Rand Paul should be a lead contender for the Democratic nomination for president."
The underlying premise is this: Rand Paul's reluctance to toe the Republican line that a lack of intervention abroad — and not, at least partially, our own blundering adventurism — has created ISIS is at odds with a majority of the party's polled constituents. In other words: He disagrees with the majority on one section of policy, therefore he must be eliminated.
What's particularly astonishing is how quickly these talking heads are to dismiss Rand Paul as a Republican candidate all while making it their utmost duty to destroy him in frequent television appearances and written pieces. It perhaps says a lot about the strength of his enigmatic views when it comes to wooing new voters, and striking fear in the people who've controlled the party's foreign policy agenda for a few decades.
But, of course, one should ask all these commentators and politicians: Should Ben Carson run as a Democrat because his views on gun control (another key Republican issue) don't comport with the party majority? Education standards could play a large role in 2016 — should Jeb Bush run as a Democrat because he breaks rank on Common Core?
Didn't think so.
[Featured image via Shutterstock.com]
— —
>> Follow Andrew Kirell (@AndrewKirell) on Twitter
Have a tip we should know? tips@mediaite.com