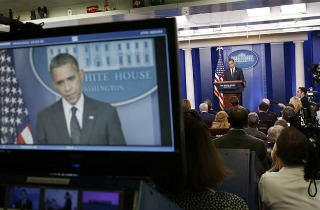 For most of President Barack Obama's first term, and even the early part of his second, the president has proudly asserted that his is the "most transparent administration" in American history.
That claim invited some scrutiny at first, but incredulity quickly took hold. New York Times Executive Editor Jill Abramson famously called this "the most secretive White House I have ever dealt with." The Associated Press has lodged complaints over blocking the access of their photographers to the president, favoring instead internal image-crafters which some say smacks of a state-run media. Even the White House Correspondents Association has expressed frustration with this administration's lack of openness.
Still, White House officials continue to insist that White House opacity is a thing of the past. As recently as April 17, White House Press Sec. Jay Carney, speaking as a former White House reporter, repeated this assertion. "I've covered the previous two administrations, and know a thing or two about ones before that, there has never been a more transparent administration," he said with authority.
RELATED: Photojournalists Protest White House's Aggressive, 'Stalinist' Image-Making of Obama
Well, those with equal claim to authority on presidential openness have weighed in, and the administration might not like the verdict. Almost to a person, the White House correspondents who spoke with Politico Magazine for their latest issue mocked, scoffed, and even scolded the administration for asserting that their's is the most accessible White House.
When asked what their reaction is to this claim a variety of well-known reporters replied:
"To roll my eyes." – CBS's Major Garrett.
"The history of which country?" – White House Dossier's Keith Koffler.
"To groan." – ABC's Ann Compton.
"Bullshit." – NPR's Scott Horsley.
"To take another Jaeger shot in my imaginary drinking game," – Politico's Glenn Thrush.
"I need to read what ProPublica is saying about that." – Le Monde's Corine Lesnes.
"To humbly disagree." – Reuters' Steve Holland.
"I think he has to do a little more work to make that a reality." – ABC's Jonathan Karl.
"That he and I have different understandings of the term." – Politico's Josh Gerstein.
"'Methinks thou doth protest too much.'" – AP's Mark S. Smith.
There were some exceptions. New York Daily News reporter Jim Warren said that the White House deserves more credit for providing reporters with data from the Department of Health and Human Services than they get. C-SPAN's Steve Scully insisted that "most transparent" is an impossible goal, but the White House has made strides. And The Daily Beast's Eleanor Clift excused the White House's insularity because the "partisan nature of media conspires" to force administration personnel into a defensive crouch.
But those exceptions proved the rule, which was to unleash a withering barrage of derision down on White House officials who continue to make this dubious claim. But the mockery of journalists not prevented administration officials from making it before. Don't expect them to stop any time soon.
[Image via Larry Downing/Reuters]
— —
>> Follow Noah Rothman (@NoahCRothman) on Twitter
Have a tip we should know? tips@mediaite.com