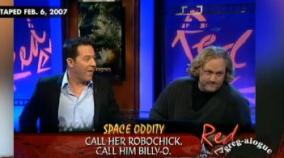 MSNBC's David Shuster became a fan of Fox News' late-night comedy/news hybrid Red Eye just in time for its three-year anniversary.
And it's coming at a time when the 3amET show is seeing big ratings in the A25-54 demographic – even topping CNN prime time last week.
Just like when we highlighted the show's ratings in September 2009 (which the FNC advertising department enjoyed as well, taking out full-page ads in the New York Post and others), the ratings for last week show Red Eye beating CNN again. This time, the show had better ratings in the A25-54 demographic than Campbell Brown at 8pmET and Larry King at 9pmET, and tied Anderson Cooper at 10pmET (Monday-Thursday).
For Friday's third-anniversary show, there was a look back at the past few years, including the second episode – which was…fairly raw. And featured an unkempt, pre-Big-Everything Andrew Breitbart.
"I want to thank our awesomely awesome fans for watching and supporting us over the last three years," said Gutfeld. "And if you didn't support us, you're worse than Media Matters."
Here's the Greg-alogue from Friday night, featuring David Gregory's hair, a lot of cat jokes aimed at Andy Levy and insults aimed at Bill Schulz. And more robots:


• Related: Arianna Huffington Continues To Be Incited By Glenn Beck
> Update on Tuesday: With the full Monday-Friday ratings, Red Eye topped all programs on CNN in prime time, including AC:360.
—–
» Follow Steve Krakauer on Twitter
Have a tip we should know? tips@mediaite.com