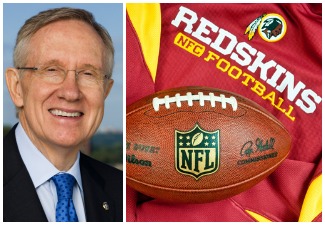 Senator Harry Reid has been a bit strident in his outrage over the Redskins team name, calling them out time after time, connecting the supposed offensiveness of the team name to Donald Sterling's remarks, and even getting a total of fifty Senate Democrats to sign a letter to the NFL to force the name change. Well, the team is now reaching out to Reid and inviting him to meet with them and attend a game.
Bruce Allen, the president of the Redskins organization, sent a letter to Reid [PDF] saying he "may not have been provided all of the pertinent facts and true history of the Washington Redskins." He argues that the term was first used as a "Native American expression of solidarity" and that the team's logo was actually designed by Native Americans.
Furthermore, he cites a poll showing a vast majority of Native Americans don't find the Redskins name offensive. But at the very start of the letter, he makes a direct offer for Reid to meet and attend a Redskins game.
"I hope you will attend one of our home games, where you would witness first-hand that the Washington Redskins are a positive, unifying force for our community in a city and region that is divided on so many levels."
Allen also emphasizes what the Redskins are doing for Native American communities with the Washington Redskins Original Americans Foundation (a name that inspired perhaps the most controversial Stephen Colbert segment of all-time).
[h/t POLITICO]
[image via Shutterstock]
— —
Follow Josh Feldman on Twitter: @feldmaniac
Have a tip we should know? tips@mediaite.com
Josh Feldman - Senior Editor