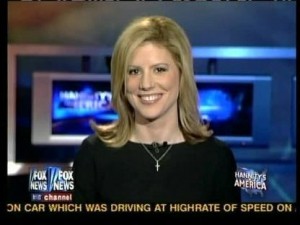 As a former girlfriend of Congressman Anthony Weiner, political analyst Kirsten Powers is in a unique position to offer some very personal insight regarding Weiner, his character, and his treatment of those with whom he is romantically involved. At first, Powers was quick to defend her former boyfriend, even appearing on Hannity in an effort to change the public's perception of her ex. (As a testament to their closeness and, perhaps, to Weiner's character, Powers even recounts how the Congressman contacted his wife, Huma Abedin, in an effort to help Powers' parents when they were recently stranded in Egypt.)
Even despite Monday's lengthy and emotional press conference, when Weiner publicly admitted that he had initially lied about the nature of his relationships to various women on the web, Powers had his back. Then, she says, she saw how he had been "sneering and pointing fingers at other people for what he knew he had done" and, as a result, Powers has now completely rescinded her support for him. What's more, she is calling for Weiner to immediately step down from his position in Congress.
In an op-ed piece published today on The Daily Beast, a disappointed Powers does not mince words when offering her thoughts on Weiner and his behavior:
This has not been my position previously during the scandal, but as I have recovered from the shock of seeing an old friend's life unravel and have had time to get my mind around the extensive and sociopathic lying in which he engaged, there seems to be no other choice than for him to step aside and stop hurting his family, friends, and the Democratic Party. As more information trickles out about his online behavior with women, it has also become clear that he does not have the character to be in a position of leadership because of his misogynist view of women and predatory behavior.
Powers also reveals that it was Weiner himself who urged her to speak with none other than The New York Post (which does not exactly appeal to Weiner's fan base, to say the least) to "talk about what kind of boyfriend he was." This echos previous reports that Weiner had attempted to coach former porn actress Ginger Lee, one of the women involved in the scandal, on how to talk about Weiner to the press.
Powers also expresses concern and repulsion over Weiner's treatment of the women with whom he interacted online, going so far as to call his online behavior "predatory."
But even if I could see past the lying and extreme narcissism that is noteworthy even by Washington standards, there is the issue of his attitude toward women. What has emerged is a picture of a predator trolling the Internet for women—some half his age—with which to engage in cybersex. We know only about the women who were responsive to his overtures. The odds are very high that he struck out with many, and other women were victim to his unsolicited sex talk. Women should be able to "friend" a married—or unmarried—congressman on Facebook or follow him on Twitter without fear of being the recipient of lewd talk or behavior. Just because a woman "likes" your video on Facebook doesn't mean you can send her a picture of your penis. This is textbook sexual harassment. It may not be illegal, but it's definitely unethical.
In the end, Powers' opinion – while just one voice in an increasingly loud and furious media maelstrom – is interesting in that she can truly act as a "character witness" where Weiner is concerned.
h/t Daily Beast
Have a tip we should know? tips@mediaite.com