Report: Loretta Lynch Made Call Not to Order Comey to Withhold Clinton Letter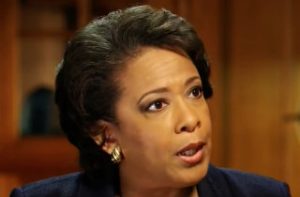 On Thursday, another post election bomb dropped, albeit one that really makes sense if you think about it: Attorney General Loretta Lynch could have ordered FBI Director James Comey not to send the letter to Congress about re-opening the Hillary Clinton email investigation, but she didn't. The revelation comes in a new Washington Post feature from Sari Horwitz, who explains exactly what happened leading up to the letter and its public release.
"It was DEFCON 1," said an one source who was informed about the decision making process. "We were in­cred­ibly concerned this could have an impact on the election." While intermediaries laid out the most obvious arguments not to send out the letter (it violated FBI policies about commenting on ongoing investigations and interfering in elections), Lynch never spoke to Comey personally, much less issued a direct order. Apparently, Lynch thought that Comey wouldn't listen…even if it *was* a direct order, because he felt a duty to update Congress on what he had testified to under oath during their inquiry into the email scandal.
There were also two other lines of reasoning that the DOJ tried to use to convince Comey:
That he had never promised to update Congress on every new development in the first place, he just said that he would "look at" anything new that came in.
Make it clear in the letter that the FBI had new information that might be related to the Clinton investigation, but couldn't be sure if it was substantive. That didn't happen.
One official who spoke with the Post felt that one reason that Comey went forward was that he felt Lynch's credibility was undermined by her impromptu meeting with Bill Clinton on her plane several months earlier. "Anybody who's ever worked with Jim Comey knows that he has an independent spirit," the source explained. "But he still very much believes in the chain of command. If he has a boss who's asking him to do something that's in the scope of the law and reason, he's going to follow it. He would have followed protocol. Had the issue with Loretta Lynch on the tarmac not happened, things would be different. People forget that."
[Photo: CNN screen grab]
Have a tip we should know? tips@mediaite.com