Report: New Book Alleges Mitt Romney Urged Single Mother To Give Up Her Child For Adoption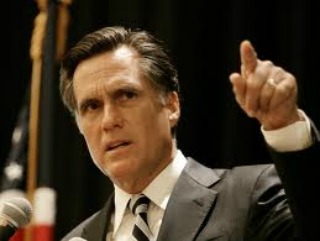 As the election heats up, the attacks and/or vetting of each candidate have reached a boiling point. The latest narrative concerns former Massachusetts governor Mitt Romney, and comes courtesy of a new book — The Real Romney — that purports to offer an in-depth look into his past, both as a businessman and as a member of The Church of Jesus Christ of Latter-day Saints. Among allegations contained in the book is the claim that, back in 1983 Romney, then a Mormon bishop, urged a single mother to give her baby up for adoption.
Vanity Fair offers a glimpse at some of the book's contents, including several stories from LDS women who became personally acquainted with Romney's "coldness."
RELATED: Gingrich Super PAC Adviser Defends Anti-Romney Doc, Calls Him A 'Low-Flying Vulture'
One such woman, Peggy Hayes, says she was urged to give up her baby after finding herself a single mother for the second time:
By 1983, Hayes was 23 and back in the Boston area, raising a 3-year-old daughter on her own and working as a nurse's aide. Then she got pregnant again. Single motherhood was no picnic, but Hayes said she had wanted a second child and wasn't upset at the news. "I kind of felt like I could do it," she said. "And I wanted to." By that point Mitt Romney, the man whose kids Hayes used to watch, was, as bishop of her ward, her church leader. But it didn't feel so formal at first. She earned some money while she was pregnant organizing the Romneys' basement. The Romneys also arranged for her to do odd jobs for other church members, who knew she needed the cash. "Mitt was really good to us. He did a lot for us," Hayes said. Then Romney called Hayes one winter day and said he wanted to come over and talk. He arrived at her apartment in Somerville, a dense, largely working-class city just north of Boston. They chitchatted for a few minutes. Then Romney said something about the church's adoption agency. Hayes initially thought she must have misunderstood. But Romney's intent became apparent: he was urging her to give up her soon-to-be-born son for adoption, saying that was what the church wanted. Indeed, the church encourages adoption in cases where "a successful marriage is unlikely."

Hayes was deeply insulted. She told him she would never surrender her child. Sure, her life wasn't exactly the picture of Rockwellian harmony, but she felt she was on a path to stability. In that moment, she also felt intimidated. Here was Romney, who held great power as her church leader and was the head of a wealthy, prominent Belmont family, sitting in her gritty apartment making grave demands. "And then he says, 'Well, this is what the church wants you to do, and if you don't, then you could be excommunicated for failing to follow the leadership of the church,' " Hayes recalled. It was a serious threat. At that point Hayes still valued her place within the Mormon Church. "This is not playing around," she said. "This is not like 'You don't get to take Communion.' This is like 'You will not be saved. You will never see the face of God.' " Romney would later deny that he had threatened Hayes with excommunication, but Hayes said his message was crystal clear: "Give up your son or give up your God."
If Romney was indeed following church protocol, might the inclusion of this anecdote play into and fuel anti-Mormon sentiment among certain voters? Does this anecdote provide a valid and relevant look into Romney's character? Does it impact your perception of him? Let us know what you think below.
h/t Vanity Fair
Have a tip we should know? [email protected]