Report: NY Tea Party Gubernatorial Candidate Carl Paladino Sent Racist Emails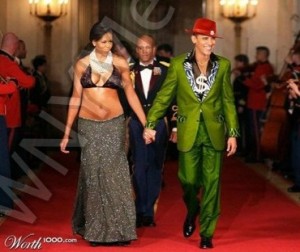 New York gubernatorial candidate and "Tea Party leaner" Carl Paladino is (steeping?) in hot water over his email history. Buffalo area political blog WNYMedia.net has posted emails sent by Paladino that feature everything from racist images of President Obama, to a horse-on-human beastiality video.
The Political Carnival is also carrying this story, along with a new report of a Tea Party leader tweeting "Illegals everywhere today! So many spics makes me feel like a speck. Grrr. Wheres my gun!?"
Two more bad apples? Perhaps, but at this rate, the Tea Party movement is in danger of turning into the "Hard Cider Movement."
Paladino's campaign manager dismissed the allegations, while blithely refusing to refute the authenticity of the emails. From Alan.com:
Paladino's campaign manager, Michael Caputo, is defending his candidate.

"Carl Paladino has forwarded close friends hundreds of e-mail messages he received," Caputo said. Many of these e-mails he received were off color, some were politically incorrect, few represented his own opinion, and almost none of them were worth remembering."

Doing more damage than damage control, Caputo also said:

"We're not sure about the authenticity of the emails, and we don't care," said Paladino's campaign manager, Mike Caputo. "i'm not even going to comment on the emails. It's not something I care to look at…

"Let he who has never opened a graphic image on their internet cast the first stone."
Meanwhile, it turns out the Springboro Tea Party leader who sent that offensive tweet feels like a speck because of his own son:
Racist comments, including a slur about Hispanics, posted on the Twitter page of the Springboro Tea Party were particularly hurtful to Alana Turner.

"Illegals everywhere today! So many spics makes me feel like a speck. Grrr. Wheres my gun!?" said the March 21 posting on the site managed by the group's founder, Sonny Thomas.

Turner said the comments upset her because she and Thomas have a 6-year-old son who is part Hispanic.
Classy. A local Tea Party leader denounced the comments, and said that the national movement is not focused on immigration, and certainly not racism. He should clue in Tom Tancredo, who told a cheering Tea Party convention that there ought to be voter literacy tests.
You can expect to see one, or both, of these men on an upcoming "Worst Persons" segment, but surely the truth lies somewhere between Keith Olbermann's blanket generalizations about the Tea Party and the complete denial of Tea Party leaders (and some of the media) that their movement has any racial baggage at all.
On the one hand, the expiration date on the term "isolated incidents" expired a long time ago. While the majority of Tea Partiers are decent people, they don't seem to mind offensive signs in their midst, at least not enough to make these people feel unwelcome. It seems you have to meet a pretty high bar to get kicked out of a Tea Party event.
On the other hand, dismissing the entire movement as racist is lazy and unfair, and I think it has provided the distraction necessary for the movement's real flaws to go unexamined, so much so that a narrative has emerged that the Tea Party movement is becoming mainstream.
These two examples aren't likely to do anything but increase the volume on the current all-or-nothing conflict between supporters and opponents of the Tea Party.
Have a tip we should know? tips@mediaite.com