Report: Romney Campaign Sees Primary Campaign Vs. 'Unelectable Hard Right Counterweight'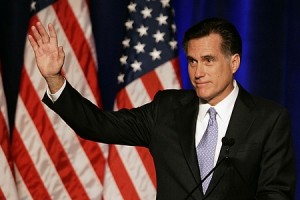 Most polls indicate the clear frontrunner for the Republican presidential nomination is Mitt Romney, and now a lengthy report from ABC News' Shushannah Walshe reveals some of the strategy inside the Romney team that has helped transform him into a fundraising machine. In the last quarter Romney raised more than all of his other primary rivals combined, and even despite the money differential, the report suggests Romney isn't really fearing any of his competition.
A top donor, who attended a private fundraising event, provided some behind-the-scenes dirt, including revealing some of Romney's talking points to rally support:
"Obama was a nice guy and America did something they like to do and that is trust a likable guy, well spoken guy, handsome guy, and well meaning guy, but it turns out he's clueless about handling the sophisticated economics stuff."
Also Romney believes Obama missed a huge opportunity to help have the Arab Spring fundamentally change the Middle East.
The donor also disclosed Romney's specific plans to secure the nomination: win in the early primary states of New Hampshire and Nevada, and hope to "get lucky" in Iowa and South Carolina. With at least two primaries in the bag, the contest would then boil down to Romney and an "unelectable hard right counterweight." In that situation, Romney and his electability would sail towards victory.
Finally, the donor also suggested that Romney's camp isn't really sweating about his rivals, thinking the "whole thing is breaking our way" since Newt Gingrich is "imploding," Tim Pawlenty is "not getting any traction" and Michele Bachmann is "unelectable." And with someone from Pawlenty's campaign allegedly complaining to Romney's finance team that Romney "vacuumed the city clean" of potential campaign contributions, it seems Romney's strategy is paying off.
Check out the full story at ABC's The Note.
Have a tip we should know? tips@mediaite.com