Reporters Grumble as White House Hasn't Held On-Camera Press Briefing in a Week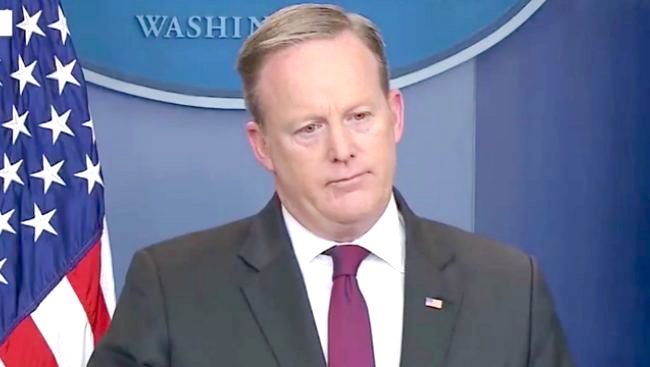 With a lot of news coming from the White House today and over the weekend, reporters and correspondents were obviously hoping that White House press secretary Sean Spicer would hold a full, on-camera press briefing today, especially considering that the press sec hasn't held one since last Monday.
Alas, no dice. And one wonders if this is now going to be the norm.
As CNN's Brian Stelter noted today, Spicer held three on-camera briefings the week of February 20th and only one last week. In place of those briefings, Spicer and the press office have taken to holding gaggles off-camera with members of the press. Spicer told CNN that that the White House is fulfilling its promise to conduct daily press briefings, with "some on camera, some off."
Needless to say, this isn't sitting well with reporters tasked with covering this administration. Jeff Mason, president of the White House Correspondents Association, stated that he had "urged Sean to hold an on-camera briefing today instead of the off-camera gaggle."
ABC News' Jonathan Karl sent out this tweet announcing no on-camera presser, while also pointing out the State Department cancelled there's as well.
So … there is no on-camera WH briefing today. And @StateDept, has cancelled its briefing today, which was to be the 1st since January 19

— Jonathan Karl (@jonkarl) March 6, 2017
Another ABC reporter appeared to be tweaking Spicer for the off-camera gaggle.
This special placard will be getting all the screen time today for @PressSec's off camera briefing. pic.twitter.com/RXWlXRMFQP

— Alex Mallin (@alex_mallin) March 6, 2017
And POLITICO's Shane Goldmacher noticed how the rollout of President Donald Trump's new travel ban is opposite of what we saw the last time he issued it.
The rollout this morning is everything the last one was not:
—Mon v. Fri
—Cabinet v no Cab
—No Trump v. Trump
—Briefing v. no briefing

— Shane Goldmacher (@ShaneGoldmacher) March 6, 2017
Other reporters weighed in to CNN:
"We have noticed the lack of on-camera briefings," Sabrina Siddiqui of The Guardian newspaper told CNN. "It is not normal to have this many 'off-camera gaggles.'"

Gaggles, sometimes held in the press secretary's office, have been a useful supplement to on-camera briefings in the past.

But veteran CBS correspondent Mark Knoller, a keeper of voluminous presidential statistics, doesn't have any stats for the number of off-camera briefings in prior administrations because, he said, "there were so few."
It was just last month when a White House press gaggle became the subject of much controversy when it was revealed that numerous media outlets that have been critical of the Trump administration, including CNN and the New York Times, were blocked from attending.
[image via screengrab]
——
Follow Justin Baragona on Twitter: @justinbaragona
Have a tip we should know? tips@mediaite.com