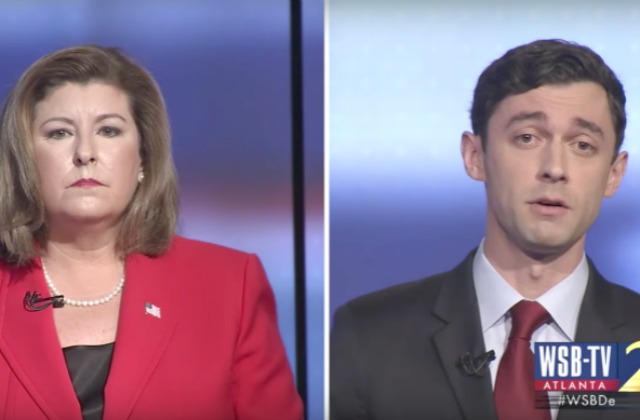 In Georgia's 6th Congressional District special election, Republican Karen Handel has defeated Democratic candidate Jon Ossoff to take over the House seat that was vacated by Tom Price when he was named Health and Human Services Secretary.
There just is not enough mail in votes for Ossoff.
We project that Karen Handel has WON #GA06

— Decision Desk HQ (@DecisionDeskHQ) June 21, 2017
Projection: Karen Handel (R) has defeated Jon Ossoff (D) in #GA06.

— Dave Wasserman (@Redistrict) June 21, 2017
CNN projects Republican Karen Handel wins the special Congressional election in the Georgia 6th, beating Democrat Jon Ossoff.

— Jake Tapper (@jaketapper) June 21, 2017
The race was called when the mail-in ballots didn't appear to be enough to overcome Handel's Election Day margins.
DeKalb County just reported absentee-by-mail (ABM) votes. #ga06 https://t.co/pirrro8jWk (PDF) pic.twitter.com/rbhRcVGHCi

— Greg Giroux (@greggiroux) June 21, 2017
Many political commentators and analysts had been looking at this race as perhaps a bellwether race for the upcoming 2018 midterms, especially with unprecedented money pouring into the district and the possibility that Democrats could flip a long-held Republican seat.
This special election was actually a runoff as Ossoff had finished comfortably in first place when the election was first held in April but was unable to grab over 50% of the vote, coming in just short. Handel finished a distant second place largely due to a number of Republican candidates throwing their hats in the ring. Heading into Tuesday night's election, polls had it as a dead heat.
While many around the country looked at this race as a referendum on President Donald Trump, especially with Trump only winning the district by less than two points, the two candidates rarely referenced the president. Instead, Handel focused much of her attention on Ossoff not living in the district while the Democrat went after her conservative policy positions.
Down the stretch, with so much attention being paid to the race, Democrats urged voters in the district to #VoteYourOssoff. It was also noticed that both campaigns had barred particular media outlets from events on Monday, leading to cries of censorship.
And, just to show how the crazy political environment surrounding this election, one fringe conservative PAC aired an ad connecting Ossoff to Rep. Steve Scalise's shooting, complete with footage of Scalise on a stretcher.
[image via screengrab]
—
Follow Justin Baragona on Twitter: @justinbaragona
Have a tip we should know? tips@mediaite.com