Republican Senate Committee Sends Out List Of Conservative Pundits Calling For Akin To Drop Out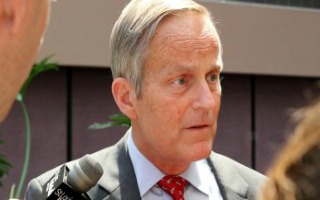 The National Republican Senatorial Committee, after announcing on Monday that they intended to pull $5 million in television advertising reservations in Missouri unless embattled GOP Senate candidate Todd Akin dropped out of the race, is again pulling the rug out from under Akin's candidacy. On Tuesday, the NRSC sent a list of conservative pundits, columnists and lawmakers opposing Akin's candidacy.

RELATED: Crossroads GPS Pulls Ads From Missouri Senate Race Following Akin's Remarks
The full list sent out by the NRSC reads as follows:
Radio/TV Host Sean Hannity urged Akin yesterday to reconsider running and reminded him that "elections are bigger than one person"

• Radio Host Mark Levin similarly urged Akin to step aside saying this race is far too important to risk losing to the Democrats.

• National Review's Jim Geraghty observes, Who Isn't Calling for Akin's Withdrawal? Claire McCaskill & Planned Parenthood.

• Columnist/Radio Host Dennis Prager penned a column for Townhall.com calling on his fellow pro-life leaders to join him in disavowing Akin's remarks.

• Columnist Charles Krauthammer on Fox News last night called Akin "toxic" and said "he's got to go"

• Radio Host Hugh Hewitt tweeted – "If Akin drops out and GOP wins Senate, he has career. If he stays in and GOP doesn't win Senate, infamy and injury to prolife cause"

• Author Ann Coulter penned a column in Human Events calling on Akin to do the right thing and step aside for the good of the pro-life movement

• National Review editorial board called on Akin to step aside, writing in part, "Akin is a stalwart conservative and an honorable man, we regret to say that he inspires no such confidence"

• Wall Street Journal editorial board also called on Akin to step aside, writing in part, "Having uttered one of the more offensive and ill-informed comments in recent years, Mr. Akin could cost his party a seat it is favored to win this November and thus possible control of the Senate."

• The Tea Party Express called on Akin to step aside saying "It is critical that we defeat Senator Claire McCaskill in November, but it will be too difficult to achieve that with Todd Akin as the conservative alternative."
Akin has until 5 p.m. CST today to drop out of the race without the Republican party facing penalties. On Tuesday morning, Akin released an ad in which he took responsibility for his inflammatory comments and apologized for them. The optics of that ad suggest that, just weeks after winning a hard-fought, three-way primary race, Akin has no intention of dropping out.
h/t The Hill
> >Follow Noah Rothman (@Noah_C_Rothman) on Twitter
Have a tip we should know? tips@mediaite.com