Republicans Should Not Rescue Democrats From Themselves With A Filibuster of Background Checks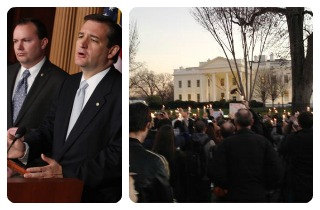 The Wall Street Journal editorial board published an op-ed on Wednesday brutalizing Republicans in Congress who they say are in the process of converting "the gun debate (such as it is) that [President Barack] Obama is losing into a 2014 Democratic advantage." The debate on new gun laws has turned decidedly against Democrats in recent weeks, WSJ notes, but they caution that Republicans looking to press their advantage could end up squandering it. The WSJ board is correct, but they do not go far enough in convincing the GOP that they have not made a persuasive case against expanded background checks. Public polling shows, rather definitively, that the GOP has failed to make that case to voters.

RELATED: Bringing A Knife To A Gunfight: How Texas Stabbings Will Impact Gun Control Debate In Politics And Media
"Mr. Obama is lapsing into such crude appeals—support his gun-control agenda or suborn mass child murder—because he knows his real problems aren't the gun lobby," the editorial opens. "They're members of his own party who answer to law-abiding voters who support Second Amendment rights."
The WSJ op-ed details how Democratic gun control proposals made in the immediate wake of the Newtown massacre have been gradually scaled back. Democrats, engaged in an internal struggle to reconcile the concerns of their pro-Second Amendment members with the party's progressive wing, have been forced to abandon many of their initially gun control proposals.
What appears to be an impending Republican victory can, however, quickly become a defeat if Republican senators pursue a course which includes filibustering the upcoming bill to expand background checks.
Enter a faction of Republicans led by Mike Lee of Utah and Ted Cruz of Texas, who late last month said they'll use the filibuster to prevent the Reid bill from coming to the floor. On Tuesday Minority Leader Mitch McConnell endorsed the gambit, and the Heritage Action for America PAC says it plans to "score" the filibuster as a key vote for election purposes.
"In an instant, these GOP wizards have taken the onus off Senate Democrats and made Republicans the media's gun-control focus," WSJ editorial board admonishes. "If conservatives want to prove their gun-control bona fides, the way to do it is to debate the merits and vote on the floor."
Republicans in Congress have valid concerns about expanded background checks legislation, and even about the compromise hashed out between Sens. Joe Manchin (D-WV) and Pat Toomey (R-PA).
But Republicans have done a poor job of educating the public about the negative consequences of expanded background check mandates. Concerns expressed by many conservatives, that a "federal gun registry" could result from expanded background check legislation, has seeped into the public consciousness. A CNN/ORC poll released on Wednesday that shows that a majority of respondents fear that eventuality if expanded background check legislation is passed in Congress. A Quinnipiac University poll released last week showed that 48 percent of respondents fear that the government could use the information obtained through a universal background check process to confiscate firearms in the future.
Even with these serious concerns, citizens still support the concept of expanded background checks to the tune of 80 – 90 percent. This suggests that Americans are willing, at the moment, to forego their valid concerns about a hypothetical consequences of this legislation tomorrow for the sense of increased security today. The polls show that the GOP has made the case against increased background checks, but they have not made the political case effectively enough to dissuade Americans from supporting them.
Conservative politicians who attack these polls for misleading voters cannot reconcile why respondents acknowledge but disregard their concerns about the "slippery slope" toward tyranny that could result from expanded background checks.
It is not impossible that there would be no political fallout for either Democrats who support gun control legislation in defiance of their constituents, or Republicans who block new gun laws in the face of opposition from the national electorate. The likelihood though is, after a protracted and nationalized midterm election campaign in 2014, the issue of guns would be a negative for House and Senate Republican candidates.
If the Senate fails to pass meaningful new gun laws in the wake of the Newtown massacre, it will be because Democrats failed to rally enough of their own members to support those measures. Republicans should not provide Democrats with a convenient scapegoat to blame for their failures.
The Wall Street Journal is right. The GOP is smart to keep their powder dry in the fight over background checks. They should preserve the public good will and negotiate over background checks in good faith in order to maximize their leverage in the coming legislative battles over immigration reform, the budget, and a debt ceiling increase. To filibuster background checks would have the effect of focusing the minds of moderate and Democratic voters, as well as the media, back on the familiar and convenient "obstructionist Republican" narrative.
> >Follow Noah Rothman (@NoahCRothman) on Twitter
Have a tip we should know? tips@mediaite.com