Reuters Article On Sen. Marco Rubio Issues Five Corrections, Is Labeled A 'Disgrace'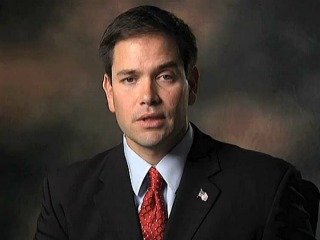 Politico's Dylan Byers today looks into a Reuters piece on Florida Senator Marco Rubio that has warranted at least five corrections. And, apparently, the article — which was described as one source as a "disgrace" — is bad enough that its writer and editor have been asked not to discuss it.
Rubio's staff reached out to the editors and the writer early yesterday, prompting Reuters to issue two corrections. But the Daily Caller's Matt Lewis, who spoke with Rubio's staff as well, wrote an item suggesting that there were at least seven errors or exaggerations that warranted mention, and Reuters ultimately issued three more.
RELATED: Marco Rubio On Newt Gingrich Pulling Florida Attack Ad: 'He Made The Right Choice'
The article — "Florida's Rubio a star, but an unlikely VP pick" — had described Rubio as an unlikely pick for a GOP running mate due to his "financial issues" related to his home and student loans.
At the bottom of the page, the article includes a list of its corrections and changes:
(Removes words "and at times has had difficulty paying his mortgage," paragraph 7; removes "he did not make payments on a $100,000-plus student loan" and instead states "he did not pay down the balance of a $100,000-plus student loan," paragraph 10; removes "he was caught up in an Internal Revenue Service Investigation" and instead states "his name surfaced in an Internal Revenue Service investigation," paragraph 12; removes "voted against Sonia Sotomayor, Obama's Supreme Court nominee" and instead states "opposed President Barack Obama's Supreme Court nomination of Sonia Sotomayor," paragraph 41; removes "voted against Obama's healthcare overhaul" and instead states "opposed Obama's healthcare overhaul," paragraph 41)
Rubio's spokesperson told Byers that it was "unfortunate that a story was posted with so much bad information," but that Reuters' "quick response was appreciated."
h/t Politico
Have a tip we should know? tips@mediaite.com