Richmond Tea Party Says Occupy Protesters Getting Special Treatment, Demands $10,000 Back From City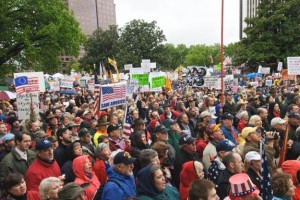 In April, the Richmond Tea Party held a Tax Day rally in Richmond's Kanawha Plaza. Along with two more of their rallies, the group was charged about $10,000, and had to comply with a list of rules and regulations. Now they want their money back, saying that Occupy Wall Street protesters have been camping out and using the plaza for free since October 15. Colleen Owens, a Tea Party spokesperson, says that her group had to go through a litany of procedures — getting permits, paying for police, paying for port-o-potties, and paying for emergency personnel, among other things — while the Occupiers are getting use of the Plaza without incurring any expenses.
"The City of Richmond's picking and choosing whose First Amendment rights trump someone else's First Amendment rights and we thought–well that's fine–then they can refund our money," Owens told CBS 6's Sandi Cauley. "If that's how they're going to run the city then they owe us our fees back." Mayor Dwight C. Jones had no comment on the issue, as his office had not received any communication from the Tea Party (the letter asking for the refund was being sent on Friday), but at least one government official agrees with Owens:
"I guess we'll be writing a check to the tea party people," Councilman Bruce W. Tyler told Wesley P. Hester of the Richmond Times-Dispatch. "You can't treat one group different from the other. It's unfair. We've now hit the slippery slope that we never should have found ourselves on."
On Thursday afternoon, Mayor Jones visited the Occupy camp and met with some of the protesters. The scene, described by Hester in the Times-Dispatch, was almost like when Dorothy landed in Oz and met all the people with their strange customs. For instance, when Jones was trying to explain that city officials would soon be sent to discuss the legality of the occupation, this exchange ensued:
"I've been lenient," Jones said to the group of dozens gathered around him. "I understand protests."

Jones was then interrupted, and informed by [Josh] Kadrich that the encampment was not a protest, but rather "an occupation in protest, which is something distinctly different."
It gets better:
When Jones resumed speaking, protesters began shouting "mic check," which meant that members of the group could not hear him. They then began using the "people's mic," essentially shouting every few words that Jones uttered.

Jones then attempted to "invite your leaders" to come and meet with him to discuss the occupation, at which point he was informed that there were no leaders.
As for the Tea Partiers who paid to use the same Plaza, Owens says that if the group isn't given the refund, they may choose a different venue for future rallies, but won't try to take over the Plaza without paying. "We're the tea party," she told Hester, "we don't break the law."
Have a tip we should know? tips@mediaite.com