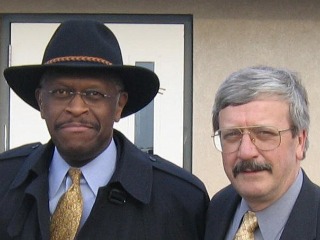 The fascination and/or confusion inspired by the Herman Cain campaign's unusual political ad quickly ushered Cain campaign manager, the inimitable (but you can certainly try, maybe for whatever Halloween party you have this weekend) Mark Block, into the national spotlight. If an interview with the AP from his Atlanta office is anything to go by, the Tea Party leader thinks of himself as an "anti-Rovian" figure working in stark contrast to GOP establishment figurehead Karl Rove.
RELATED: Star Of Herman Cain's 'Smoking Ad': No Subliminal Message Was Intended
The article paints a portrait of Block — the Merlin to Cain's King Arthur if the stone were America and the sword a cornucopia of ice cream analogies, apples, oranges and a tax plan with a catchy name — as something of a renegade, as well as a man finely attuned to changes within a certain segment of the Republican party and an awareness that campaign practices must change accordingly. But with that renegade status comes a few shady spots in his past:
But Block's reputation was marred when he was accused of illegally coordinating state Supreme Court Justice Jon Wilcox's 1997 re-election campaign with a special interest group that favored school vouchers. In 2001, he agreed to pay $15,000 and was banned from running Wisconsin political campaigns for three years to settle the case. Block made no admission of wrongdoing in the settlement. Block told the AP that he had not coordinated with the group and called the charges "ridiculous."

Unable to make a living in politics, Block paid the bills stocking shelves at a Target. He has the "Mark" nametag mounted on his desk at Cain headquarters.

Block said it was during those tough times that his home went into foreclosure and his personal life unraveled, resulting in two arrests for drinking and driving.

"That's why I don't drink anymore," he said.
Block, however, was able to bounce back, eventually securing a role as the Wisconsin director of the Koch brothers' Americans and Prosperity in 2005, in addition to helping to organize Wisconsin's branch of the Tea Party. But Block found his work called into question yet again. In 2007, a prosecutor looked into robo-calls made by Americans for Prosperity concerning a local school referendum, eventually concluding that, while the calls were misleading, the case was not strong enough to bring charges against Block. Three years later, left-leaning group One Wisconsin Now claimed it had a recording of a Tea Party meeting, alleging it included evidence of Block's involvement in an effort to "prevent legal voters from casting ballots in Democratic-leaning neighborhoods." Law enforcement did not investigate the allegations, and Block has insisted he did not have a role in any wrongdoing.
Whatever happens to Herman Cain, it's probable that we've yet to see the last of Block. The man is too savvy, too tenacious and much too entertaining to disappear completely once his role as campaign manager comes to its end.
h/t Huffington Post
Have a tip we should know? tips@mediaite.com