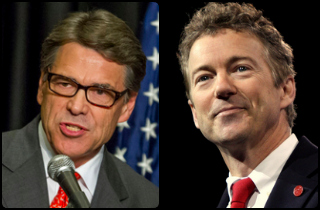 Governor Rick Perry (R-TX) turned his attention away from the U.S.-Mexico border on Saturday to instead weigh in on foreign policy with an op-ed in the Washington Post titled "Isolationist policies make the threat of terrorism even greater."
In the column, Perry singles out a Wall Street Journal op-ed that Sen. Rand Paul (KY) penned last month that advocated against U.S. military intervention in Iraq. Perry writes that he finds it "disheartening" to hear a fellow Republican like Paul "suggest that our nation should ignore what's happening in Iraq," saying that argument ignores the threat that ISIS poses to the United States.
Perry goes on:
This represents a real threat to our national security — to which Paul seems curiously blind — because any of these passport carriers can simply buy a plane ticket and show up in the United States without even a visa. It's particularly chilling when you consider that one American has already carried out a suicide bombing and a terrorist-trained European allegedly killed four at the Jewish Museum in Brussels.

Yet Paul still advocates inaction, going so far as to claim in an op-ed last month in the Wall Street Journal that President Ronald Reagan's own doctrines would lead him to same conclusion.

But his analysis is wrong. Paul conveniently omitted Reagan's long internationalist record of leading the world with moral and strategic clarity.
RELATED: Memo to Cable News: Learn the Difference Between 'Isolationism' and 'Non-Interventionism'
By the end of his piece, Perry is essentially aligning Paul with Democrats, writing, "Paul is an articulate advocate for his views, which are shared by many on the left and some on the right. But in today's world, with today's threats, we still cannot take blind shelter across the sea, rushing to respond only after freedom is lost.' That was President Reagan's warning. Sen. Paul would be wise to heed it."
BuzzFeed's McKay Coppins reached out to Paul for comment and got this response from the senator's chief adviser Doug Stafford: "Utter nonsense. Interesting to be lectured entirely in talking points though. His new glasses apparently don't make him see the world any more clearly."
[Photos via Facebook/Wikimedia Commons]
— —
>> Follow Matt Wilstein (@TheMattWilstein) on Twitter
Have a tip we should know? [email protected]