RNC Furiously Walks Back Romney 'Still Deciding What His Position On Immigration Is'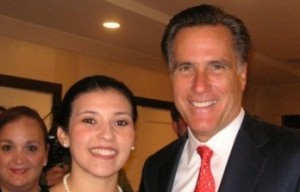 The Republican National Committee is trying to erase a gaffe, by one of its spokespersons, that highlights former Massachusetts Governor Mitt Romney's famous hardness-to-pin-down. Asked a question about alienated Hispanic voters, RNC Hispanic Outreach Director Bettina Inclán told reporters that "As a candidate, to my understanding, he's still deciding what his position on immigration is."
RNC spokeswoman Kirsten Kukowski walked that back quicker than a meth-addicted mime doing a tribute to Michael Jackson, telling reporters "We never said the governor is still deciding on immigration. I want to make sure we are exponentially clear."
From The Hill:
"As a candidate, to my understanding, he's still deciding what his position on immigration is," said Bettina Inclan, the Republican National Committee's (RNC) director of Hispanic outreach.

Inclan was speaking at an RNC event unveiling six new regional staffers who will direct Hispanic outreach in swing states. But asked how the RNC will speak with Hispanic voters about immigration, Inclan said she couldn't speak about what policies GOP candidates would put forth.

"He's talked about different issues," she said of Romney. "There's a very diverse opinion on how to deal with immigration."
Inclan herself tried to clear things up via Twitter, with a link to the Romney campaign website's immigration page:
I misspoke, Romney's position on immigration is clear
While Democrats will surely have a lot of fun with this, Inclan and the RNC are absolutely right, Romney's positions on immigration are clear, and that's the whole problem. As The Hill notes, Romney has positioned himself to the right of a GOP field that included a guy who joked (or not) about electrocuting illegal immigrants and feeding them to alligators (because don't they deserve a hot meal, too?). The immigration line in this GOP field was so merciless, it even made Newt Gingrich look like a bleeding heart. That's why Romney is stuck with such a huge polling gap.
This is the rare occasion where it would have been to Mitt Romney's benefit not to have been so clear.
Have a tip we should know? tips@mediaite.com