Robert Reich: Bernie Supporters Who Think Hillary Is the Same as Trump Are 'Dead Wrong'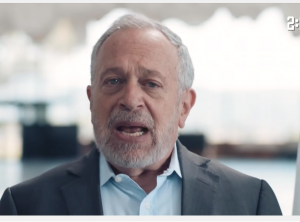 In a post on his blog, former Labor Secretary Robert Reich made an appeal to Bernie Sanders supporters who may have gone from supporting the Vermont senator to Donald Trump instead of Hillary Clinton. Reich has been a vocal supporter of Sanders and his movement since he endorsed him for president back in February. Reich has been a big fan of the Bernie movement, once calling him "the agent of change this nation so desperately needs" on Facebook. While Reich was a fan of Bernie Sanders, he seems to have been a bigger fan of his movement.
"[Bernie]'s leading a movement to reclaim America for the many, not the few. And such a political mobilization – a 'political revolution,' as he puts it — is the only means by which we can get the nation back from the moneyed interests that now control so much of our economy and democracy," Reich wrote on Facebook.
However, with Bernie now effectively out of the race, Reich is turning his attention to stopping Trump, who he says on his blog is "a bigoted narcissist who incites and excuses violence". Reich also had some harsher words that he used to describe Trump.
"His presidency would threaten everything this nation stands for: tolerance, inclusion, freedom of the press, equal justice, and equal opportunity."
Reich also tried to build up Hillary in the eyes of former Sanders supporters who are disappointed to say the least about him endorsing Clinton. He said, "I view Hillary as enormously qualified to be president of the political system we now have. She is smart, capable, and experienced."
In a real attempt to sway Sanders supporters, he finally attempted to show that the movement Bernie started isn't over. He claims that his supporters must continue the movement to ensure real progress.
"That movement was never about Bernie; it was about reclaiming our democracy and our economy. And that movement will live on, and it will grow. It needs your continuing activism and your tenacity," declared Reich.
—
image via Youtube screengrab
Have a tip we should know? tips@mediaite.com