Roland Martin Challenges Bill O'Reilly to Debate Over 'Many Blacks Ill-Educated' Remark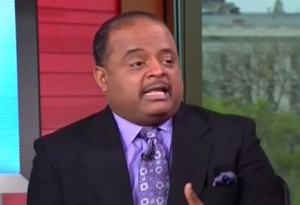 Fox News host Bill O'Reilly stepped in it this week when, in the same breath he was asking Donald Trump how to avoid perceptions of racism, O'Reilly declared that "many blacks" are "ill-educated and have tattoos on their foreheads," and are thus not qualified for jobs. On Tuesday morning, News One Now host and National Association of Black Journalists Award-winner Roland Martin excoriated O'Reilly for the remark, and challenged him to a debate "anywhere, anytime," even at Sylvia's restaurant in Harlem.
During his interview with Trump Monday night, O'Reilly asked the real estate mogul how he expected to create jobs for minorities. "How are you going to get jobs for them? Many of them are ill-educated and have tattoos on their foreheads, and I hate to be generalized about, it but it's true," O'Reilly said. "If you look at all the educational statistics, how are you going to give jobs to people who aren't qualified for jobs?"
Roland and his panel, which included commentator Angela Rye, Republican strategist Paris Dennard, and BLACK co-director Amber Phillips, were none too pleased with the comments. Martin pointed out that O'Reilly hosts "the largest show on cable news," while Rye criticized Trump for not pushing back. Dennard said he thought Trump deserved credit because "at least he did not engage and co-sign with that."
Phillips added that "even if you do have a tattoo on your forehead, you're allowed to have a job and take care of yourself!"
But then Roland challenged O'Reilly to debate him on the subject of education. "Bill was afraid of this black man," Martin said, recalling the last time he challenged O'Reilly, adding "Bill, anytime, any day, anywhere, we can have the debate."
Watch the segment above, from News One Now.
Have a tip we should know? tips@mediaite.com