Rolling Stone Reporter: Obama Bombed In First Debate Because He Was Dealing With Benghazi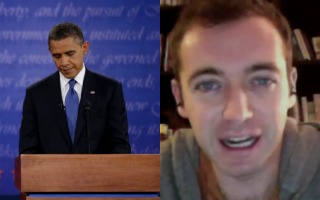 Rolling Stone Magazine reporter Michael Hastings told HuffPost Live on Tuesday that, while researching a BuzzFeed special book about the 2012 presidential election, he learned why President Barack Obama performed poorly against Mitt Romney in the first presidential debate. Hastings said that the president he was distracted during most of the debate preparation period by duties related to the Benghazi attacks. According to reports, however, Obama was equally distracted by a variety of football games on the weekend prior to the first debate.

RELATED: Al Gore Blames Denver's High Altitude For Obama's Lackluster Debate Performance
The September 11, 2012, attack on an American consulate in Benghazi, Libya, took the lives of four Americans – including America's ambassador to Libya, Chris Stevens.
Hastings says that a number of factors contributed to Obama's lackluster debate performance in Denver on October 3, 2012, including a sense of overconfidence and his attitude towards Romney's prowess as a candidate.
The most debilitating factor contributing to his poor debate performance, Hastings says, was the amount of time he devoted to coping with the attack in Benghzai, culminating in the welcoming home of the bodies of the four killed in that attack.
"This has never been reported before, but it's in the book: One of the president's debate prep sessions, when he was supposed to be preparing for this, was the day that the bodies of the four victims in Benghazi came back to Andrews Air Force Base," Hastings said referring to his book, Panic 2012.
"So, he literally gave a speech about Benghazi, met the families of these victims from like 1 to 4 p.m., and then goes and tries to focus on getting ready to argue with Mitt Romney over tax policy," Hastings added.
The president joined Hillary Clinton on September 14, 2012 to welcome home the bodies of the four killed in that attack – 19 days prior to the first presidential debate.
Several reports from the period detail the president's inability to devote as much time to prepare for the Denver debate as Romney. The president devoted three full days to a retreat in Nevada where he sequestered himself to prepare for the upcoming debate. According to Obama campaign spokesperson Jen Psaki, however, he was force to cancel some preparation in order to deal with the crisis in the Middle East.
However, on the Sunday prior to the first debate, the president spent some of his time watching the various mid-season football games.
Be it the Benghazi attack or the NFL, both explanations for Obama's performance make more sense than the Mile High City's altitude.
Watch the interview below via The Huffington Post:
> >Follow Noah Rothman (@Noah_C_Rothman) on Twitter
Have a tip we should know? tips@mediaite.com