Romney Campaign Releases Web Ad Starring Former Romney Punching-Bag Mike Huckabee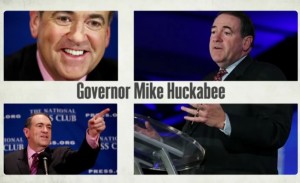 Former Massachusetts Gov. Mitt Romney's presidential campaign has released a new web ad that features radio clips of former Arkansas Governor Mike Huckabee defending Romney against the recent barrage of attacks on Romney's tenure at Bain Capital. Ironically, Huckabee was also featured in an anti-Romney SuperPAC ad last month that reminded voters of Romney's propensity to go negative early, like he did against Huckabee in 2008.
The ad also features a typewriter noise, which, as weird as it is, lends Huckabee's brief defense of Romney some extra gravity. ""It's surprising to see these attacks coming from fellow Republicans," Huckabee says, as the typewriter taps out the words onscreen, which may or may not be a dig at Bain acquisition Ampad.
In case the typewriter noises weren't enough, the spot concludes with the serious-voiced narrator repeating Huckabee's declaration for emphasis: "You'd Expect Obama To Attack Free Enterprise – But Not Fellow Republicans."
Here's the web ad, entitled "Huckabee":
Aside from the silliness of Huckabee's well-worn premise (criticizing Bain isn't "attacking free enterprise" any more than criticizing the Hindenburg is an attack on air travel), the amusing thing about this spot is that in 2008, Mitt Romney attacked Mike Huckabee with a relish that earned him loud complaints from the candidate, and harsh criticism from the political media. In December, anti-Romney superPACs American Bridge and Priorities USA released a web ad heavily featuring Huckabee's complaints that "Mitt Romney is running a very desperate and, frankly, a dishonest campaign," and "the attacks by the Romney campaign have gotten really kind of out of bounds for good politics, particularly within the Republican Party, totally violating Reagan's 11th commandment."
Using Huckabee to defend himself against attack ads, then, seems a little bit cruel, like making the guy you just fired carry your briefcase to the car for you.
Here's the American Bridge spot from December:
Have a tip we should know? tips@mediaite.com