Romney Quickly Shoots Down Audience Member's Question About Book Of Mormon
Romney Shoots Down Audience Member's Question About Book Of Mormon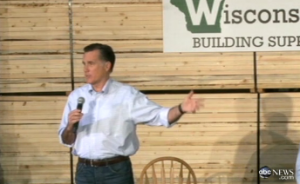 Mitt Romney, as we've mentioned, isn't inclined to bring up his Mormon faith. Unlike, say, Rick Santorum, Romney has kept from injecting his religion into his political talking points. On Monday, ahead of Tuesday's primaries, a man at one of Romney's events in Green Bay, Wisconsin ventured toward the topic of Mormonism. Romney immediately shot down the question and moved on.
RELATED: The M-Word: GOP Debates Have Strayed Away From Addressing Mormonism
"Your Mormon faith might not be a concern in the election but I think it might be as well as I found these verses in the Mormon book," Bret Hatch said to Romney, who quickly asked, "Why don't you give me a question?"
Hatch added, "Okay, well, in the Mormon book it says there were a blackness came upon all the children of Canaan that they were despised."
"I'm sorry we're just not going to have a discussion about religion in my view, but if you have a question, I'll be happy to answer your question," Romney replied.
Hatch asked, "I guess my question is do you believe it's a sin for a white man to marry and procreate with a black?" asked Hatch. "No," said Romney firmly. "Next question."
ABC News notes, "While Romney shot down the discussion of religion at the time, just moments later when asked how he'd respond to being characterized as "out of touch," Romney volunteered a story about the time he served as a pastor for his church."
Hatch, a Ron Paul supporter, later spoke to reporters. From ABC News:
"Either he believes the Book of Mormon, or he doesn't," he said. "That's what it comes down to. So either he believes it, and he believes what these things say right here, or he doesn't. And from what I understand he just denounced his faith up there."

"I think that's an important issue," said Hatch. "He's going up against a black guy! He's going against Obama. This is a racial issue."
Take a look at the exchange, via ABC News:

(H/T ABC News)
Have a tip we should know? tips@mediaite.com