Romney Responds To Criticism Of Calling Embassy Statement An 'Apology': White House Agrees With Me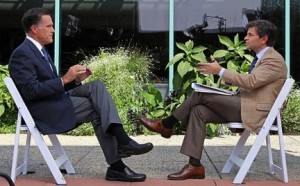 In the midst of the violence that erupted earlier this week in Cairo and Benghazi, the U.S. embassy in Egypt released a statement condemning "the continuing efforts by misguided individuals to hurt the religious feelings of Muslims." Mitt Romney was one of many conservative voices criticizing the statement for sounding "sympathetic" to the attackers. President Obama told 60 Minutes that Romney "has a tendency to shoot first and aim later." Romney responded in an interview with ABC's George Stephanopoulos today, where he pointed out that he was saying the same thing the White House did in condemning the statement.
RELATED: Video: Mitt Romney Heckled For Politicizing Libya Tragedy
Romney insisted to Stephanopoulos that he still believes the embassy's statement to be "inappropriate" because it was not "directly applicable and appropriate for the setting." Regarding the criticism Romney received for his early condemnation of the statement, he pointed out he was taking the same side as the White House.
"What I said was exactly the same conclusion the White House reached, which was that the statement was inappropriate. That's why they backed away from it as well."
The Obama administration strongly distanced itself from the embassy's statement, with an administration official telling POLITICO yesterday that the statement "was not cleared by Washington and does not reflect the views of the United States government."
When Stephanopoulos brought up Obama's comment about Romney tending to "shoot first and aim later," Romney did not respond, but merely said that "this is politics [and] I'm not going to worry about the campaign."
h/t ABC News
—–
Follow Josh Feldman on Twitter: @feldmaniac
Have a tip we should know? tips@mediaite.com
Josh Feldman - Senior Editor