Romney Says Another Reason Not To Release Tax Returns Is To Keep Church Donations Private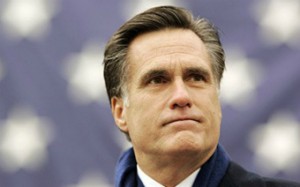 There's been much ado made about Mitt Romney's tax returns this election cycle, and generally Romney's defense for not releasing them as been that additional returns would make him a bigger target for attack, that the opposition will always want something more. In this Sunday's edition of Parade magazine, Romney offers another reason: His donations to his church.
RELATED: Mitt Romney: 'I Have Never Paid Less Than 13%' In Taxes In Last 10 Years
One reason he's kept his returns private is because he wants to keep his donations to the LDS Church private, according to The Salt Lake Tribune. Romney told Parade:
"Our church doesn't publish how much people have given," Romney tells Parade magazine in an edition due out Sunday. "This is done entirely privately. One of the downsides of releasing one's financial information is that this is now all public, but we had never intended our contributions to be known. It's a very personal thing between ourselves and our commitment to our God and to our church."
Thus far, Romney's released his 2010 return, and a summary of the following year's (promising to release it in its entirety). The Tribune notes that members of "The Church of Jesus Christ of Latter-day Saints are encouraged to donate 10 percent of their gross income to the faith, and Romney's disclosure early this year shows he did just that and also forked over more through his family charity."
Romney pulled in more than $40 million in 2010 and 2011, his campaign reported, and paid about $4.1 million to the LDS Church. That's in addition to about $4.8 million his Tyler Charitable Foundation donated to the faith.
Just last week, Romney told reporters that over the past 10 years, he's never paid less than 13 percent in taxes — also making mention of his charitable donations. "But every year I've paid at least 13 percent and if you add in addition the amount that goes to charity, why the number gets well above 20 percent," he said.
(H/T Salt Lake Tribune)
Have a tip we should know? tips@mediaite.com