Roseanne's Cancellation Was The Worst Thing That Could Ever Happen To… Joy Reid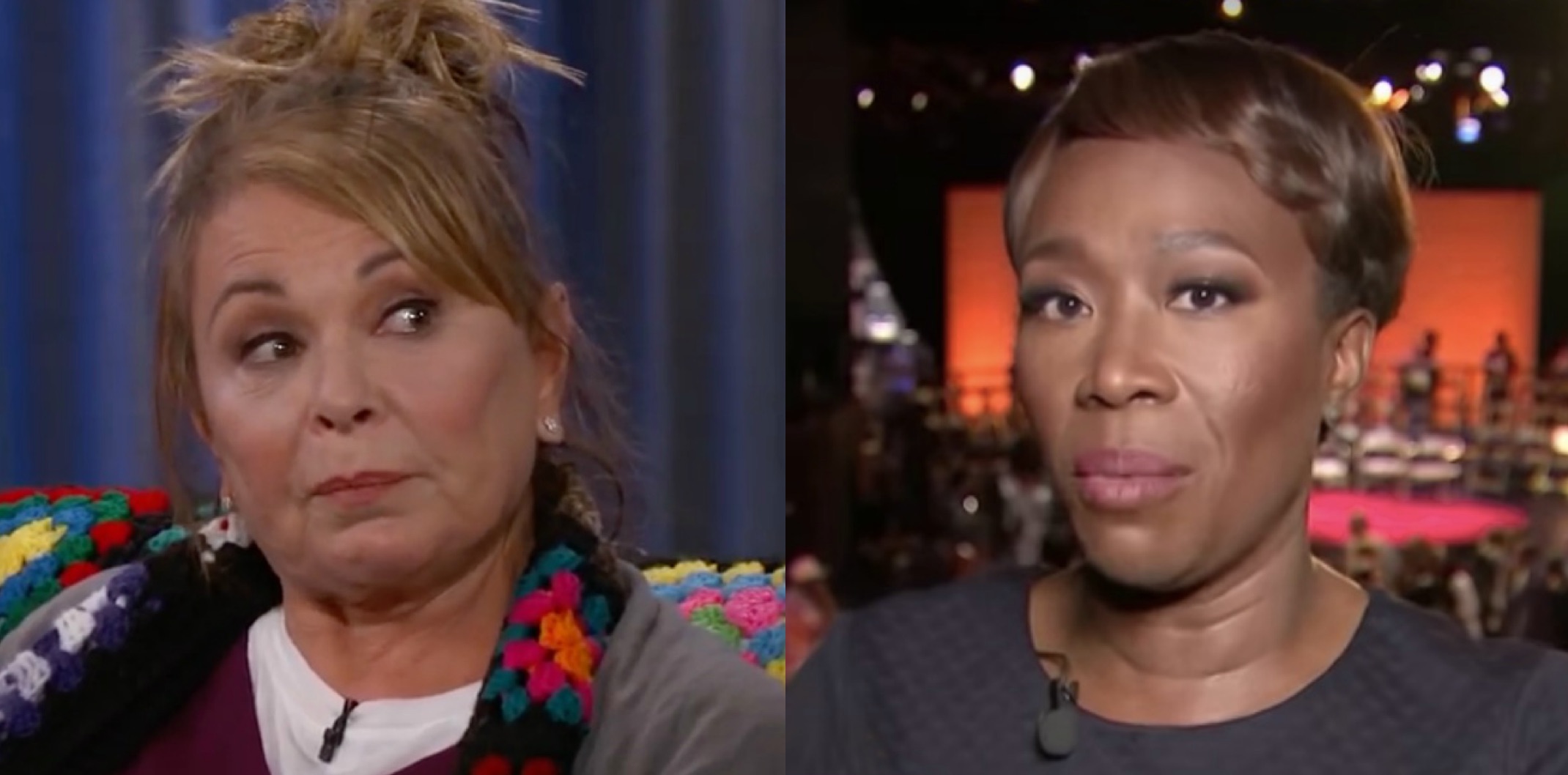 Roseanne Barr sparked a firestorm this week with a racist tweet aimed at former Obama advisor Valerie Jarrett, which led ABC to cancel her hit show Roseanne.
However, the cancellation of Roseanne caused an avalanche of "whataboutism" from the right. The View's Joy Behar was recently under fire for her mocking Christians who believe God speaks to them, calling it a "mental illness." Bill Maher's years-old attacks comparing Donald Trump to an orangutan resurfaced. ESPN's Keith Olbermann's dozens of profane tweets aimed at the president made the rounds, as well as Jemele Hill's calling him a "white supremacist." Essentially, the argument is that Roseanne's show was canned for a tweet while these folks on the left have said offensive things but managed to keep their jobs.
But of all the liberals that were being dragged in the Roseanne hurricane, it's MSNBC host Joy Reid who has taken the biggest hit.
A few weeks ago, Reid found herself at the center of controversy when dozens of homophobic posts from her old blog were reported by Mediaite. Instead of owning her insensitive remarks, however, like she did back in December when she apologized for the first batch of discovered blog posts, she made a dubious claim that her old blog was hacked. Reid eventually addressed the controversy on her show, telling her viewers that while she couldn't find evidence that her blog was hacked, she still didn't "believe" she wrote the posts simply because they were so heartless… but offered an apology anyway for the homophobic posts she insisted she didn't write.
The biggest takeaway from the Joy Reid scandal wasn't her homophobic remarks. It is reasonable to believe Reid that, like millions of Americans, her views on the LGBT community have evolved over the years. Had she taken ownership of them, her credibility and her career would have likely remained unscathed. Instead, she appears to have lied, which warrants serious consequences. Reid, while a news host on a large cable news network, was knowingly being untruthful to preserve her own progressive reputation. Despite loyal colleagues at the network and a loyal fanbase, MSNBC eroded its credibility for allowing a lie to cover up the past bigotry of its host.
Sadly for Joy, just as her controversy was fizzling out, Roseanne inadvertently gave it new life.
Reid was the subject of mockery when an exchange between her and MSNBC's Andrea Mitchell went viral after she was asked "what do you have to do on social media to get fired from a top rated show on an American broadcast network?" It was obviously an ironic question since Reid wasn't fired for her own bigoted posts. And on the same day Roseanne's tweet caught fire, Reid was also ironically moderating an "Everyday Racism" special with fellow race baiter Al Sharpton, which coincidentally had Valerie Jarrett booked as a guest. Meanwhile, Buzzfeed reported this week on yet another questionable post from Reid's old blog, this time one that promoted a 9/11 conspiracy documentary produced by Alex Jones.
Joe Bernstein, the Buzzfeed reporter who co-authored the report, took to Twitter to criticize the silence of both Reid and MSNBC.
Neither @MSNBC nor @JoyAnnReid responded to requests for comment, so we don't know whether Reid would attribute these old posts about 9/11 being an inside job to her hacker https://t.co/KRD1Sv5J6P

— Joe Bernstein (@Bernstein) May 30, 2018
Sorry, but it's crazy and downright irresponsible that @JoyAnnReid and @MSNBC – a NEWS ORGANIZATION – won't address this https://t.co/kadEEiaUmL

— Joe Bernstein (@Bernstein) May 31, 2018
He's right. It is crazy and downright irresponsible how poorly Joy Reid and MSNBC have handled not only Buzzfeed's latest report this entire saga. Reid dug herself a hole by pushing the ludicrous narrative that her old blog was somehow retroactively hacked and MSNBC dug that hole even deeper by not doing anything about it.
MSNBC is still refusing to comment on the ongoing "FBI investigation" into Reid's hacked blog, and her lawyer did not respond to a request for comment.
ABC took swift action and cancelled its highest-rated show because no matter the huge financial loss, it was the right thing to do. MSNBC allowed the problems of its host go from bad to worse to the point that it has become painfully humiliating. And until the network takes Joy Reid's blog posts (and her dishonesty) seriously, she will continue to be the laughing stock of cable news.
[image via screengrab]
This is an opinion piece. The views expressed in this article are those of just the author.